RUMBOS (Rising Up, Mentoring, and Building Opportunities for Success) 
RUMBOS is an informal space for Latine/ Hispanic community and allies to connect, mentor and support students for success!
Mondays, 3:00-5:00pm
Weeks 2-10
Registration Lab Weeks 7-9
Ramey Room, Carson Hall

Questions? Contact Ixchel Verdugo at ixchel@uoregon.edu
Super Soul Tuesday is a collaborative effort between CMAE and the Lyllye Reynolds Parker Black Cultural Center (LRP BCC). 
Join us for an opportunity to engage with Black students, faculty, and staff during our weekly cultural academic check-in.
Tuesdays, 2:30-5:30pm
Weeks 2-10
LRP Black Cultural Center (15th & Villard)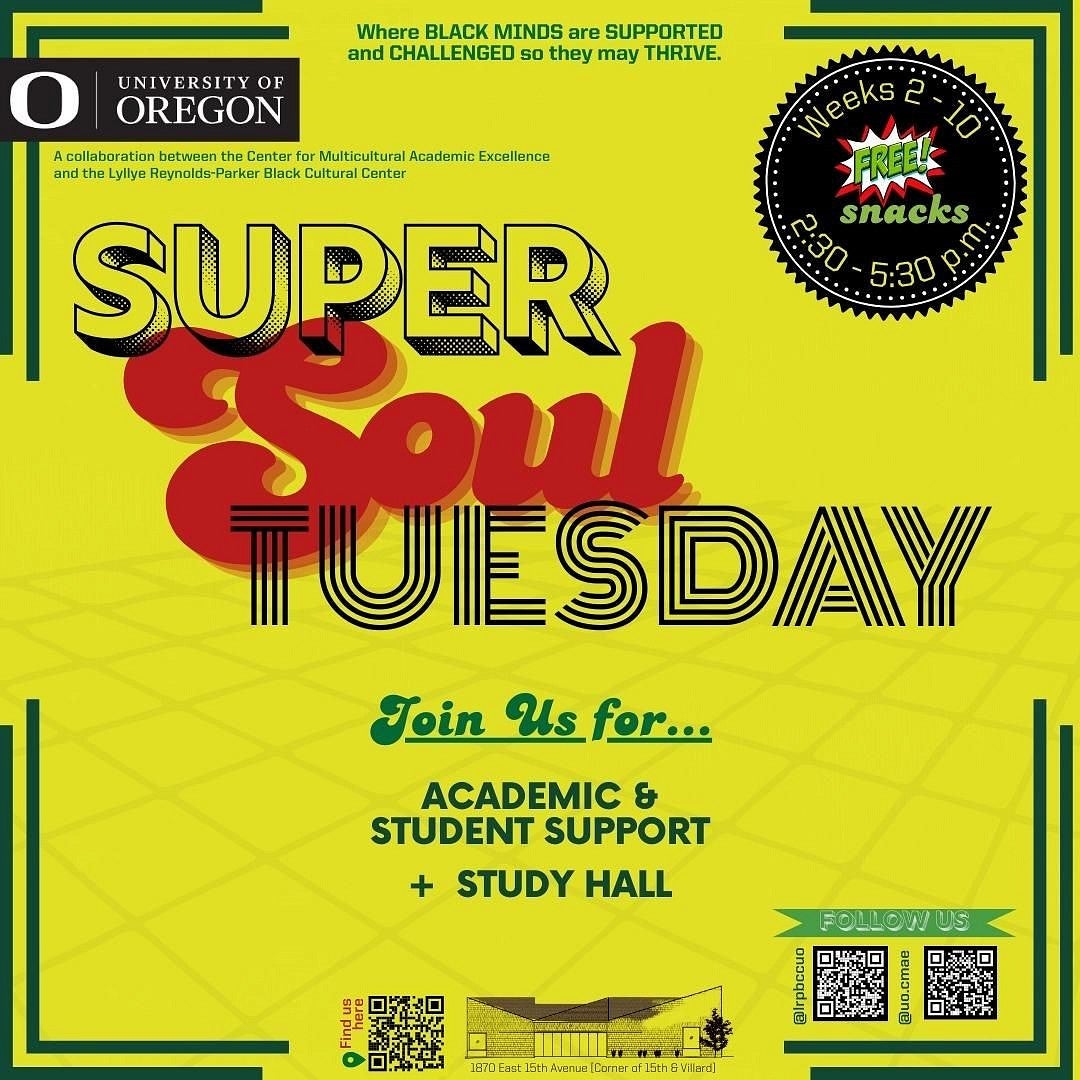 ​​​
Native Engagement Time

Join us for drop-in advising and crafting supplies!
Snack, scantrons & green books will be provided as we strive to build a community together.
Wednesdays, 1:30-3:30pm
Weeks 1-10
Many Nations Longhouse
Asian, Desi, Pacific Islander (ADPI) Meetup is a space for ADPI-identifying students and allies to connect and receive support from staff and each other. 
Join us for academic advising, snacks, study/homework time, and community!
Thursdays, 2:00-4:00pm
Weeks 2-10
Registration Lab weeks 7 and 8
CMAE (Oregon Hall)

Questions? Contact Kiana Youssefzadeh at kyoussef@uoregon.edu