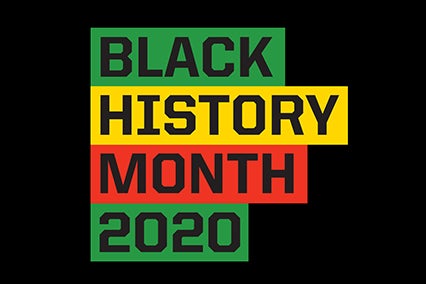 Highlighting Oregon's Black Leadership Gains During Black History Month 2020
by Dr. Yvette Alex-Assensoh, Vice President for the Division of Equity and Inclusion
2020 is a pivotal year. Not only are we gearing up for the November General Election, but this year marks the 100th anniversary of women's suffrage. As a result, there is a particularly bright spotlight on the issue of leadership. During the month of February, that spotlight specifically turns to Black leadership. Read more...
---

2020 Black History Month Events 
FEB 3, 2020

6 - 8 PM | Lyllye Reynolds-Parker Black Cultural Center

Join us for the first Black History Month mixer to be held at the Lyllye Reynolds-Parker Black Cultural Center. Students, faculty, and staff members are invited to help us launch a new tradition—our inaugural meet-and-greet to kick off a month of speakers and events. Refreshments will be served. RSVP

 

Feb 4, 2020

7:30pm | First Methodist Church

Feb 5, 2020

Return: Race, Democracy, and the Boundaires of Belonging in North America | Ideas on Tap: The Museu of Natural and Cultural History's monthly pub talk 

6pm | Viking Braggot Co. Southtowne

 

Feb 6, 2020

2 - 2:50pm | Erb Memorial Union (EMU), Duck Nest (041) 

feb 7, 2020

The Honoroable Megistrate Judge Mustafa T. Kasubhai | "Equity & Privilege: Friends or Foes?"

Social: 5:30 - 6:30pm | Banquet 7 - 8:30pm | Graduate Eugene Hotel

Call 541.852.9782 for tickets

feb 10 , 2020

12 - 1:30pm |  Erb Memorial Union (EMU), 146 (Crater Lake Room, North) 

FEB 10, 2020

Pre-Lecture Reception - 4:30pm | Lecture 5:30pm | Law School Room 175 | RSVP 

FEB 17, 2020

6 - 8pm |  Erb Memorial Union (EMU), 244 Ballroom 

feb 19, 2020

The State of Blackness at UO

5:30 - 7:30pm | Black Cultural Center | Sponsored by the Black Cultural Center & Black Studies

feb 20, 2020

3 - 5pm | Black Cultural Center | Sponsored by the Labor & Education Research Center

Feb 20, 2020

6 - 7:30pm | Black Cultural Center | Sponsored by The Koinonia Center and the NAACP 

feb 21, 2020

6 - 9pm | Valley River Inn

FEB 27 - 28, 2020

Men's Game | FEB 27 | 8pm | Matthew Knight Arena

Women's Game | FEB 28 | 8pm | Matthew Knight Arena

Sponsored by BEOREGON

FEB 29, 2020

6pm | Ford Alumni Ballroom
Black History Month, or National African American History Month, occurs every February. It celebrates the achievements by black Americans and recognizes the central role of African Americans in the U.S.
Black History Month originated as Negro History Week. It was conceived by historian Carter G. Woodson and the Association for the Study of Negro Life and History (ASNLH), the organization he founded. Woodson and the ASNLH hoped to raise awareness of African American contributions to civilization. They began visualizing the idea in 1925 and the first celebration was in February 1926, a week that had the birthdays of both Frederick Douglass and Abraham Lincoln. They were met with overwhelming positive response. By the mid-20th century, many city mayors across the U.S. issued proclamations celebrating the week.
In 1976, the celebration was expanded to a month. President Gerald R. Ford urged Americans to "seize the opportunity to honor the too-often neglected accomplishments of black Americans in every area of endeavor throughout our history." Since then each American president has issued African American History Month proclamations. Other countries around the world, including Canada and the United Kingdom, also devote a month to celebrating black history.
The original association that created Negro History Week, now the Association for the Study of African American Life and History (ASALH), continues to promote the study of Black history all year.
The University of Oregon celebrates Black History Month each year with a wide variety of events that celebrate, honor and highlight the work and culture of black Americans.
Black History Events 2019
Soul Themed Karaoke Night
Black Mental Health on College Campuses
Erica Edwards, Black Feminist Studies Speaker Series
Douglas Day 2019
"The Cradle of Hope: African Americas, Haitian Sovereignty, and the Birth of Black Internationalism" with Leslie Alexander
2019 Freedom Fund Dinner
Peacejam Northwest with Leymah Gbowee
Black Excellence Gala
"Affirmative Action Chronicles: From the Era of Colorblindness to White Nationalism" with Cheryl Harris
"Why Aren't There More Black People in Oregon?: A Hidden History" with Walidah Imarisha
Black History Month Banquet
---
Black History Events 2018
Claude Steele "The Science of Diverse Community.
Talk and Reception with Sam Bailey of "Brown Girls"
Pioneering a Living Legacy: Shaping Our Vision for Diversity and Inclusion in the Labor Movement
Black History Month Banquet
Derrick Bell Lecture: jonathan a. powell - "Looking Up From the Bottom of the Well"
Andre Djiffack: "Teaching in Mongo Beti"
Marshall (Thurgood Marshall Film)
Freedom Fund Dinner: NAACP
Black Excellence Gala: Black Student Union
Bill Fletcher: "Race and Labor: Building a More Just Economy
Stanley Wolukau-Wanambwa: "Scenes from One Wall a Web"
"Don't Touch My Hair" Opening Reception and Exhibit
Talking Black in America