---
Guest Speakers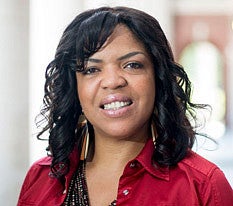 Prof. Ebony O. McGee
Tuesday, October 11, 2022
Reception: 5:00-5:30pm
Lecture: 5:30-7:00pm
Redwood Auditorium, EMU
"Black, Brown, Bruised: How Racialized STEM Education Stifles Innovation"
Prof. Ebony McGee is an associate professor of diversity and STEM education at Vanderbilt University's Peabody College. She investigates what it means to be racially marginalized while minoritized in the context of learning and achieving in STEM higher education and in the STEM professions. In particular, she studies the racialized experiences and racial stereotypes that adversely affect the education and career trajectories of underrepresented groups of color. This involves exploring the social, material, and health costs of academic achievement and problematizing traditional forms of success in higher education, with an unapologetic focus on Black folk in these places and spaces.
Prof. Patricia Faison Hewlin
Monday, January 23, 2023
5:30 to 7:00 pm, Redwood Auditorium
"Contemporary Challenges Associated with Authenticity in the Workplace"
Real. Raw. Unapologetically themselves. Individuals are being celebrated, perhaps more than ever, for their authenticity—receiving public praise, private respect, and votes in elections. Although most embrace the notion that authenticity is good, there are multiple challenges associated with creating and sustaining an organizational environment that promotes authentic self-expression in the workplace. Dr. Hewlin will share findings from her research that illustrate how complex work dynamics hinder authenticity even when organizational leaders and practices encourage everyone to bring their "whole selves" to work.
Dr. Patricia Faison Hewlin is on faculty at the Desautels Faculty of Management in McGill University, with a specialization in organizational behavior. She is also McGill University's Ombudsperson for Students. Patricia researches how organization members and leaders engage in authentic self-expression, as well as factors that impede authenticity in every day work interactions. Her research has centered on employee silence, and the degree to which members suppress personal values and pretend to embrace organizational values, a behavior she has termed as "creating facades of conformity". 
Prof. Mat Johnson
Spring Term, 2023
Mat Johnson is Professor and Philip H Knight Chair of Humanities in the Creative Writing Program at the University of Oregon. His publications include the novels Invisible Things, Loving Day, and Pym, the nonfiction novella The Great Negro Plot, and the graphic novel Incognegro. Johnson is the recipient of the American Book Award, the United States Artist James Baldwin Fellowship, The Hurston/Wright Legacy Award, the John Dos Passos Prize for Literature, and the American Book Award.