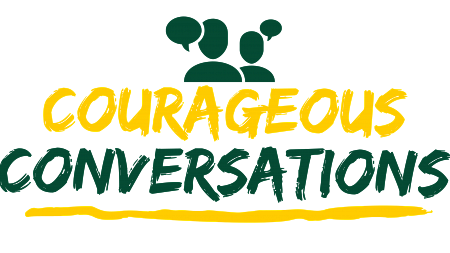 Courageous Conversations is a dialogue series intended to create authentic and civil spaces for discussion around current events centered on social and racial justice. They aim to reinforce community, build trust, and promote alignment as a foundation for positive campus climate change.
---
Details about the fall 2022 Courageous Conversations coming soon.
---
In 2020, we piloted an intergroup dialogue series at the University of Oregon. It was clear that we needed a platform that would allow us to engage in discussions around important topics that could be sensitive or uncomfortable.
Our overall goal is to strengthen our ability to have challenging conversations that empower us  to communicate around key campus and social issues that influence our campus climate. Ultimately, this intergroup dialogue series seeks to promote community, civility, authenticity, courage, and empathy.
Courageous Conversations are not new. We are building upon the widely utilized Courageous  Conversations strategy and protocol.". By utilizing this framework for our pilot, we can promote racial understanding, participate in interracial dialogue around key topics,  address racial issues, and build upon our ability to engage around issues we might not agree, but seek to build understanding across racial lines
*Singleton, G. E. (2015). Courageous conversations about race: A field guide for achieving equity in schools, 2nd ed.  Sage: Thousand Oaks, CA.
---
Topics: 2021- 2022
Fall 2021 (virtual)
Winter 2022 (virtual)
---
Spring 2022 (in person)
Breakout Style
Students, faculty, staff
Rank & Tenure (students, faculty, staff)
 Interested in learning more? Find out how you can join or start Courageous Conversations in your unit or school. Email: deicace@uoregon.edu