---
Guest Speakers
Althea Banda-Hansmann  
Founding Director, Transforming Moments
Wednesday, January 24, 2024  
Reception: 5:00-5:30pm  
Presentation: 5:30-7:00pm  
Redwood Auditorium, EMU
"Coming Home to Healing and Interconnection"
Diversity, equity and inclusion transformation invites us into a journey from separateness to coming home remembering ourselves and to our Ubuntuness. This journey requires the development of healing leaders and organizations as antidotes to living in traumatized societies. We will explore what it means to become a healing organization.
Althea Banda-Hansmann is the Founding Director of Transforming Moments Consulting where she facilitates individual, relational, organizational and societal transformation. She has combined over 30 years' experience in Diversity, Equity and Inclusion, leadership capacity development and organizational development. Althea sees her role as a midwife igniting leaders and professionals to birth the self, the organization and the society they desire. She led industry-wide common strategic Broad-Based Black Economic Empowerment projects across seven (7) oil companies in South Africa, and works globally facilitating leadership change in organizations. Althea is also a long-standing coach supervisor at the South African College of Applied Psychology, supporting the development of the next generation of change-makers.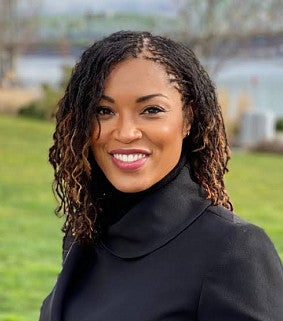 Romanita Hairston  
Chief Executive Officer, M.J. Murdock Charitable Trust  
Tuesday, February 27, 2024  
Reception: 5:00-5:30pm  
Lecture: 5:30-7:00pm  
Location TBD
Romanita Hairston is a senior executive who works towards solutions to global challenges. She is a thought leader, change agent, and business strategist with extensive experience leading cross-sector initiatives, designing end to end solutions to meet business goals, and delivering value to customers and partners. Hairston is purposeful, data-driven, and focused on outcomes with a distinctive ability to mobilize teams to work through plans and priorities at the executive level to improve effectiveness. She has worked at the national and global level in the corporate, philanthropic, and nonprofit sector on issues ranging from global skilling and educational equity to child well-being and employability. Her experience ranges from grassroots community leadership development to management of global initiatives, projects and programs.
As Chief Executive Officer, Romanita oversees all program activities of the M.J. Murdock Charitable Trust. An accomplished team builder, convener, and leader, Romanita draws on more than two decades of experience in the nonprofit (World Vision), for profit (Microsoft), philanthropic (Murdock Trust), and board service (Global Women, India Partners, Urban Alliance, Urban Impact, Impact Latin America) sectors to help steward the mission of the foundation. A graduate of the University of Washington, Romanita earned her MBA from Eastern University.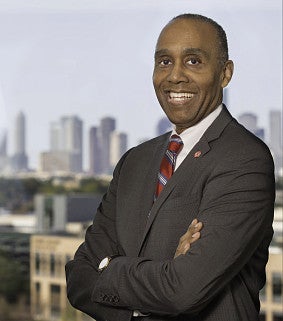 Dean Leonard M. Baynes  
Dean, Hugh Roy and Lillie Cranz Cullen  
University of Houston Law Center  
Tuesday, February 20, 2024  
Annual Derrick Bell Lecture  
Lecture at 5:30 pm  
110 Knight Law Center
"Students for Fair Admissions v. Harvard: The History of Race in Law School Admissions, and a Path Forward"
In Students for Fair Admissions v. Harvard, the U.S. Supreme Court found that affirmative action programs that considered race as a factor in college admissions were unconstitutional and violated the Equal Protection Clause of the 14th Amendment. What is most fascinating about the opinion is that the Court did not totally prohibit the use of race. Chief Justice Roberts wrote the majority opinion, and he is known for his passionate views opposing the use of race in decision making. In the Supreme Court case entitled Parents Involved, Chief Justice Roberts said that "the way to stop discrimination on the basis of race is to stop discriminating on the basis of race." But in the Harvard case, Chief Justice Roberts fails his clearly articulated admonition to enshrine his color-blind aspirations. First, the Chief Justice failed to specifically state that he was overruling the prior Supreme Court affirmative action precedents of Bakke, Grutter, Gratz, or Fisher, which found diversity to be a compelling governmental interest, and race can be used as a factor in admissions. Second, the Chief Justice also failed to specifically say that race could never be used in admissions. In fact, he allowed race to be used when the applicant raises it in the application process to describe how their race has impacted their life "so long as that discussion is concretely tied to a quality of character or unique ability that the particular applicant can contribute to the university." Third, the Chief Justice specifically left open the question whether the U.S. military academies could use race as a factor in their admissions processes. In a footnote Chief Justice Roberts noted: the military academy admissions had "potentially distinct interests" than other higher education admissions processes. In this lecture, Dean Baynes will examine the historical uses of race in law school admissions, the present-day implications of the Harvard affirmative action case, and a path forward to continue to achieve racial and ethnic diversity. 
---
Previous Speakers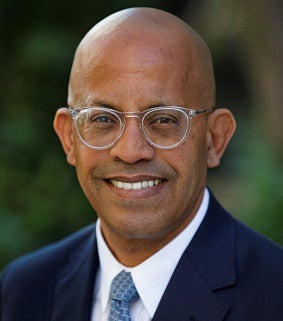 Dr. Douglas M. Haynes  
Vice Provost for Academic Personnel and Academic Programs  
Office of the President, University of California  
Tuesday, October 17, 2023  
Reception: 5:00-5:30pm  
Presentation: 5:30-7:00pm  
Redwood Auditorium, EMU 
"Breaking Free of the Cycle of Action and Inaction in Response to Racial Justice: Black Thriving as a Vehicle of Institutional Transformation at Our Nation's Colleges and Universities"
As the recent US Supreme Court decision about the use of race in admissions underscored, racial justice remains an unfulfilled moral imperative in higher education. Our nation's colleges and universities are trapped in a cycle of action and inaction in response to the demands of Black people. Since the formal dismantling of segregation in the 1960s, progress has been halting at best in confronting anti-Blackness on campuses, leveraging the research and teaching mission to promote the well-being of Black people, and linking the future of all institutions to the success of Black communities. Drawing on national examples, Dr. Haynes will discuss why breaking free of this cycle is both possible and necessary to the long-term credibility of institutions that play such an outsized role in society. At the core of this cycle is the reluctance to intentionally recognize Black thriving as a form of reparations and, in turn, take responsibility for repairing the harm. In other words, recognizing the exploitation of Black people during slavery and the persistence of systemic racism while mobilizing the university to promote Black thriving as a central—rather than a supplemental—institutional priority. Black thriving requires both conditions to be met. By so doing, our nation's colleges and universities will not only enhance their impact on the lives of talented young people today and tomorrow, but also provide a salutary example for other institutions in civil society committed to advancing racial justice.
Douglas M. Haynes is the Vice Provost for Academic Personnel and Academic Programs in the Office of the President, University of California. In this role he stewards the careers of over 70,000 academic appointees, including 12,000 faculty, while managing a portfolio of systemwide programs that advance the research, teaching, and public service mission of the university. As a Professor of Modern European History and African American Studies at the University of California, Irvine, he has broad research and teaching interests. He has published extensively on the development of the modern medical profession, the formation of medical specialties, the representations of disease in the mass media, and the global movement of labor in supporting national health care systems. Dr. Haynes also has written widely on contemporary issues in higher education, including the intersection of race and gender in science, leveraging the university mission in confronting extremism, and racial justice as a vehicle of institutional renewal among others.  

During his career he has served the university in a variety of leadership roles. He was a founding faculty member of the Department of African American Studies, led the development of undergraduate programs in Global Cultures and Medical Humanities, and served as the inaugural faculty director of the multidisciplinary Center for Medical Humanities. As Vice Provost for Academic Equity, Diversity, and Inclusion, he established the Office of Inclusive Excellence and secured federal recognition for the campus as a Hispanic Serving Institution (2017) and Asian American Native American Pacific Islander Serving Institution (2016). Dr. Haynes was subsequently appointed as the inaugural Vice Chancellor for Equity, Diversity, and Inclusion. In this role he implemented the first ever Inclusive Excellence Strategic Plan, launched the Black Thriving Initiative, and secured institutional recognition as a AAAS Sea Change Bronze Award Campus.