Writing Circles are designed to support faculty and graduate students as they write for publication, and by extension, for promotion and tenure, and academic purposes. They also work to promote and share strong writing practices and build a community of writers on campus. 
Spring Quarter Remote Sessions for Writing Circles
Mondays: 9:30 a.m. - 12:30 p.m. and 1 - 4 p.m.
Tuesdays: 9 a.m. - 12 p.m. and 1 - 4 p.m.
Wednesday: 1 - 4 p.m.
Thursdays: 9 a.m. - 12 p.m. and 1 - 4 p.m.
Fridays : 9:30 a.m. - 12:30 p.m. (full)
To find out about joining a writing circle contact: Lara Bovilsky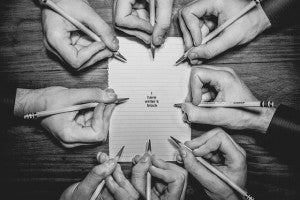 "Writing Circle gives me a way to block out time for my own writing and say 'no' to other demands on my time without feeling guilty, because the Writing Circle group holds me accountable."
                  -- Kathie Carpenter, Associate Professor and Department Head, International Studies.
 "I now know that I am guaranteed 3 hours of uninterrupted research time per week with the writing circle, and I've also successfully designated other times during the week to write as well. The group has also served as great source of support."
                  -- Rachel DiNitto, Associate professor, Japanese literature; Department Head, East Asian
                                        Languages & Literatures
---
Core Principles
The groups are founded upon two basic principles: 1) daily writing produces better quality work while also minimizing stress; and 2) group accountability helps reinforce motivation. These strategies can be especially difficult to implement without some external structure and support. In order to help integrate these skills into your writing practice, we provide weekly writing-based workshops that focus on the needs of faculty and graduate students writing throughout the disciplines. These are not review groups (focused on sharing work and improving prose) but accountability groups aimed at supporting process, community, and productivity.
Structure of the Groups
Each writing group runs for an entire quarter and is 3 hours weekly. At each session there is:
Facilitated group discussion (approx. 30 minutes) that focuses on writing and motivational strategies. Each member of the group is expected to both share their progress since the last meeting and set goals for structured writing time.
Structured writing time (remaining 2+ hours): All members of the group spend the remaining time in the session working on their individual projects, and report their progress at the end of the session.
Participants agree to:
Commit to regular attendance for the quarter.
Keep a record of their goals and progress.
Provide facilitators with ongoing feedback about the program.
Group Facilitators:
Lead a short discussion/workshop at the beginning of each session.
Facilitate group discussion of goals, strategies, and long-term writing plans.
Help participants to remain on-task (and away from e-mail, media, or other distractions).
Are available to offer advice on the writing process or a particular writing question.