Women's HIstory Month at the UO
Hear about and celebrate "10 extraordinary UO faculty members—a roster of shining stars from a diversity of disciplines and backgrounds who are guiding the next generation to equity, opportunity, and excellence."
 Star Power: Inspiring Change, Pushing Boundaries
Listen to an interview on Women's History Month with Vice President for Equity and Inclsion, Yvette Alex-Assensoh.

2020 Women's History Month Events 
---
Women's History Month was initiated in the U.S. in 1978 as "Women's History Week" by the the Education Task Force of the Sonoma County (California) Commission on the Status of Women. After the great success of the local celebration, dozens of schools planned special programs for Women's History Week. Over one-hundred community women participated by doing special presentations in classrooms throughout the country.
In 1979, Molly Murphy MacGregor participated in The Women's History Institute at Sarah Lawrence College, chaired by historian, Gerda Lerner and attended by national leaders of organizations for women and girls. When the participants learned about Women's History Week, they decided to initiate similar celebrations within their own organizations, communities, and school districts. They also agreed to support an effort to secure a "National Women's History Week."
In February 1980 President Carter issued the first Presidential Proclamation declaring the Week of March 8th 1980 as National Women's History Week. By 1986, 14 states had declared March as Women's History Month. This momentum and state-by-state action was used as the rational to lobby Congress to declare the entire month of March 1987 as National Women's History Month. In 1987, Congress declared March as National Women's History Month in perpetuity. A special Presidential Proclamation is issued every year.
The University of Oregon celebrates Women's History Month each year with a wide variety of events that celebrate, honor and highlight the work and contributions of WomeGri
---
Women's Heritage Month 2019 Women's Empowerment Luncheon presented by Black Women of Achievement.
Christen Smith, "The Sequelae of Black Life in Brazil and the US: Violence, Gender, Space and Time"
Judge Yassmin Barrios, "Justice and Reparation in Guatemala: Challenges and Possibilities"
International Womxn's Day Celebration
International Women's Day Panel and Lunch
Cine-Lit 9: Mujer y Género
Artist Reception: Anne Margratten
Women's Heritage Month 2018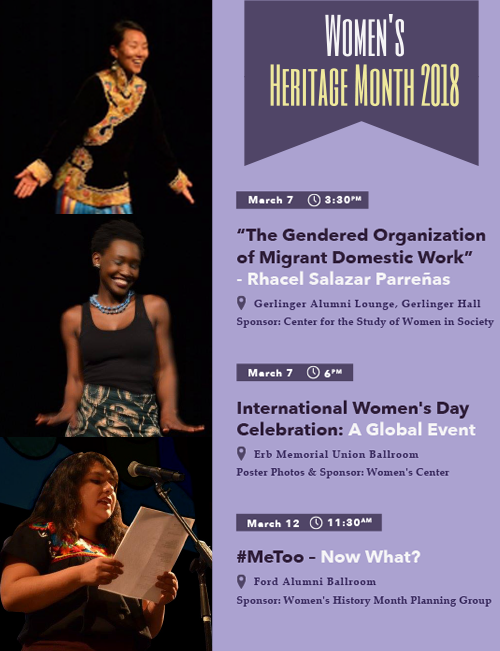 Roe V. Wade Celebration: Activity Fair
Roe V. Wade Celebration: Self-Defense Workshop
Roe V. Wade Celebration: Feminist Trivia
"The Gendered Organization of Migrant Domestic Work"  - Rhacel Salazar Parreñas
International Women's Day Celebration: A Global Event
International Women's Day; Honoring Disabled Women Activists
Women's Empowerment Awards Luncheon
Dr. Alisha Moreland-Capuia: "The Psychological Impact of Racism
#MeToo – Now What?
Schnitzer Cinema & Discussion "Acts and Intermissions" A film on Emma Goldman
UO Women in Graduate Sciences 4th Annual Fundraiser
---
Women's Heritage Month 2017
Yes We Can shared struggles unique to girls and women, and featured information and stories from around the globe, across the state, and specific to the UO. Stories from Girl Rising, the Emmy nominated documentary directed by Richard E. Robbins, shed light on the import role education plays in breaking the cycle of poverty. The program included a panel discussion with a focus on the unique challenges girls and women face in Oregon and the UO and represented perspectives from the film Girl Rising, The Women's Foundation of Oregon, UO faculty, undergraduate and graduate students.