Women's History Month 2019
Check back for more events and information
Women's History Month was initiated in the U.S. in 1978 as "Women's History Week" by the the Education Task Force of the Sonoma County (California) Commission on the Status of Women. After the great success of the local celebration, dozens of schools planned special programs for Women's History Week. Over one-hundred community women participated by doing special presentations in classrooms throughout the country.
In 1979, Molly Murphy MacGregor participated in The Women's History Institute at Sarah Lawrence College, chaired by historian, Gerda Lerner and attended by national leaders of organizations for women and girls. When the participants learned about Women's History Week, they decided to initiate similar celebrations within their own organizations, communities, and school districts. They also agreed to support an effort to secure a "National Women's History Week."
In February 1980 President Carter issued the first Presidential Proclamation declaring the Week of March 8th 1980 as National Women's History Week. By 1986, 14 states had declared March as Women's History Month. This momentum and state-by-state action was used as the rational to lobby Congress to declare the entire month of March 1987 as National Women's History Month. In 1987, Congress declared March as National Women's History Month in perpetuity. A special Presidential Proclamation is issued every year.
The University of Oregon celebrates Women's History Month each year with a wide variety of events that celebrate, honor and highlight the work and contributions of Women.
---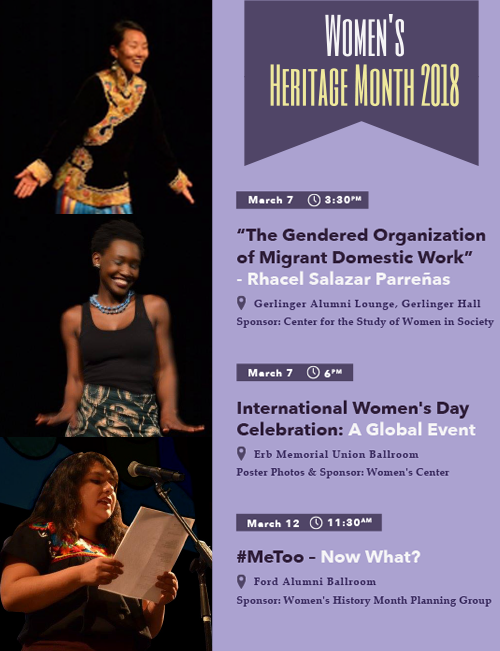 ---
 

MARCH 1, 2018

Redwood Auditorium (EMU 214) | 10 AM

An inclusive activity and craft fair in honor of the 1973 Supreme Court case. Enter our raffle to win fun prizes, eat FREE FOOD, play games, get snaps with friends at a 70's themed photo-booth, make feminist crafts to de-stress, and browse tables by organizations including the UO Women's Center, UO Men's Center, Planned Parenthood, and more!

MARCH 1, 2018

UO Student Recreation Center (SRC Room 47) | 3 PM

Participants of ALL genders, backgrounds, and experience levels are welcome! We hope to help you build physical and mental self-confidence and protect yourself from harm! The workshop will include tips on recognizing potentially dangerous situations, boundary-setting and communication methods, non-violent self-defense, and physical self-defense and escape strategies.

MARCH 1, 2018

Falling Sky (EMU) | 9 PM

Join us for an evening of pizza, brews, and feminist-fueled trivia, as part of UO Students For Choice's annual Roe v. Wade celebration. It's Falling Sky's usual trivia night with an intersectional feminist focus! There will be free pizza on a first come first serve basis. Everyone's welcome (venue is NOT exclusive to 21+), and there will be prizes available to trivia and raffle winners! 

MARCH 7, 2018

Gerlinger Alumni Lounge, Gerlinger Hall | 3:30 PM 
Sponsor: Center for the Study of Women in Society

Rhacel Salazar Parreñas, professor of sociology and gender studies at the University of Southern California, will deliver the 2018 CSWS Acker-Morgen Lecture. Dr. Parreñas "is an ethnographer whose research examines experiences of migrant workers from the Philippines.

MARCH 7, 2018

Erb Memorial Union Ballroom | 6 PM 
Sponsor: Women's Center

Please come enjoy authentic International food, educational presentations and cultural performances from around the globe.
Food provided by local Woman of Color owned-business, Alma Catering!  FREE! Space is limited!

MARCH 8, 2018

132 E. Broadway, Eugene | 5:00 PM 
Sponsor: MIUSA

Light refreshments provided.  ASL interpreted.  Wheelchair accessible 

Featuring: Jenny Chinchilla, recipient of the Mike and Lisa Sygall Scholarship and disability rights activist from El Salvador
Select portraits and vignettes from Brilliant and Resilient, MIUSA's world-traveling photo exhibit See more: http://www.miusa.org/event/2018/womensday

MARCH 10, 2018

Women's Empowerment Awards Luncheon

Living Learning Center South | Noon 
Sponsor: BWA

MARCH 10, 2018

EMU Redwood Auditorium |  Lecture begins at 12:15 | Lunch served at Noon 
Sponsor: Office of the President

Dr. Alisha Moreland-Capuia is the Executive Director at OHSU. Avel Gordly Center for Healing and a licensed, double board certified psychiatrist. She is certified in general adult psychiatry and addiction psychiatry.  Dr. Moreland-Capuia will speak on "The Psychological Impact of Racism". Additionally, Dr. Alisha is an acclaimed leader and speaker and is frequently tapped to advise on matters of education, medicine, public health and policy. 

MARCH 12, 2018

#MeToo – Now What?

Ford Alumni Ballroom | 11:30 AM 
Sponsor: Women's History Month Planning Group

MARCH 14, 2018

Ford Alumni Ballroom | 11:30 AM 
Sponsor: Women's History Month Planning Group

Abigail Child's documentary explores the resurgence of protest in the 21st century through a refracted observation of the life and works of anarchist revolutionary Emma Goldman. Programmed by Richard Herskowitz, curator of media arts, Schnitzer Cinema brings the best of experimental, documentary and arts-focused films and videos to the museum each year. Schnitzer Cinema is made possible in part with a grant from the University of Oregon Office of Academic Affairs.

MARCH 17, 2018

Ford Alumni Ballroom |  5:30 PM 
Sponsor: UOWGS
 

The University of Oregon Women in Graduate Sciences cordially invites you to our fourth annual fundraiser, with speaker astronaut Wendy Lawrence. The evening will include a sit-down dinner and silent auction. Please join us as we celebrate our continued growth and success!
---
2017 UO Women's Heritage Month Events

In celebration of Women's History Month this March, the Division of Equity and Inclusion at the University of Oregon proudly presents a special program: Yes We Can. This event shares struggles unique to girls and women, and features information and stories from around the globe, across the state, and specific to the UO. Stories from Girl Rising, the Emmy nominated documentary directed by Richard E. Robbins, shed light on the import role education plays in breaking the cycle of poverty.  The program includes a panel discussion with focus on the unique challenges girls and women face in Oregon and at the UO.  The panel represent perspectives from the film Girl Rising, The Women's Foundation of Oregon, UO faculty, undergraduate and graduate students (see program below). Be a part of breaking down barriers by joining this important conversation and advancing educational opportunities for girls and women in our communities and all over the world. Women and allies alike are invited to participate in the Q&A session with panelists.
Last Year's 2017 Event
---
Program
Welcome – Provost Scott Coltrane
Film – Girl Rising
Panelists
Lisa Snell, regional recruiter for PeaceCorps (global perspective)

Lisa joined Peace Corps in January 2016 as Regional Recruiter for the West Region/Oregon. Peace Corps is an independent agency within the executive branch of the United States government charged with providing the highest quality support to volunteers, particularly in the areas of health, safety, and security. Prior to this appointment, she was a manger of training and communication, and District Manager for US Brand Stores with Columbia Sportswear since 2009. She graduated from Kalamazoo College with a BA in English and served with Peace Corps in Morocco in 2003-2005. She's inspired to work with Peace Corps because she finds Americans, from all walks of life, ages, and backgrounds who commit making a difference in the world.

Nancy Golden, UO professor and former Oregon Chief Education officer (regional perspective)

Nancy Golden, a UO alumna,  joined the UO's College of Education in January 2016 as its first professor of practice for the Department of Educational Methodology, Policy, and Leadership. Prior to this appointment, she served as Chief Education officer with the Oregon Education Investment Board from 2013-2015, as well as Education Advisor to Governor John Kitzhaber in 2011. Nancy served as superintendent for Springfield Public Schools from 2003-2013 and was named 2011 Oregon Superintendent of the year by the Confederation of School Administrators. With a Ph.D. in Curriculum and Instruction from the UO, Nancy has over 30 years of experience in the educational field and is an expert in learning organization, group process, facilitation skills, school supervision, and curriculum delivery and design.

Ellen Scott, professor (UO faculty perspective)

Ellen Scott joined the UO in 2001 as Professor in the College of Arts and Sciences and is currently serving as Associate Head and Graduate Advisor for the Women's and gender Studies Department. Her teaching interests include social inequality, gender, feminist theory, race and ethnicity, and welfare policy. Her research interests include intersections of gender, race, class and sexualities as well as poverty, low-wage labor, and family life. Prior to joining the UO, Ellen taught at Kent State University for four years.

Kayla Vargas, student (UO graduate student perspective)

Kayla is completing her Ph.D. program in Counseling Psychology. Her clinical work to date involves primarily working with undergraduates, and she has a passion for issues of social justice and advocacy for individual facing oppression – particularly in LGBQTIA, Spanish speaking populations, and eating disorder recovery communities. She is focused on developing as a researcher, a clinician, an educator, an advocate, and a human being.

Sara Golestaneh, student (UO undergraduate student perspective)

Sara is an Iranian-American who speaks English, Farsi, and Arabic. She studies international Studies, Arabic and Middle East and North Africa Studies at the UO with an expected graduation date of June 2017. She serves as the International Student Coordinator at the ASUO Women's Center working with international students and other marginalized communities on campus. She received a Gilman Scholarship to study Arabic at the Qasid Institute in Jordan during the summer of 2016. She's interested in becoming an immigration lawyer in order to help people from the Middle East who migrate to the US, as well as working with refugee populations coming to the US.