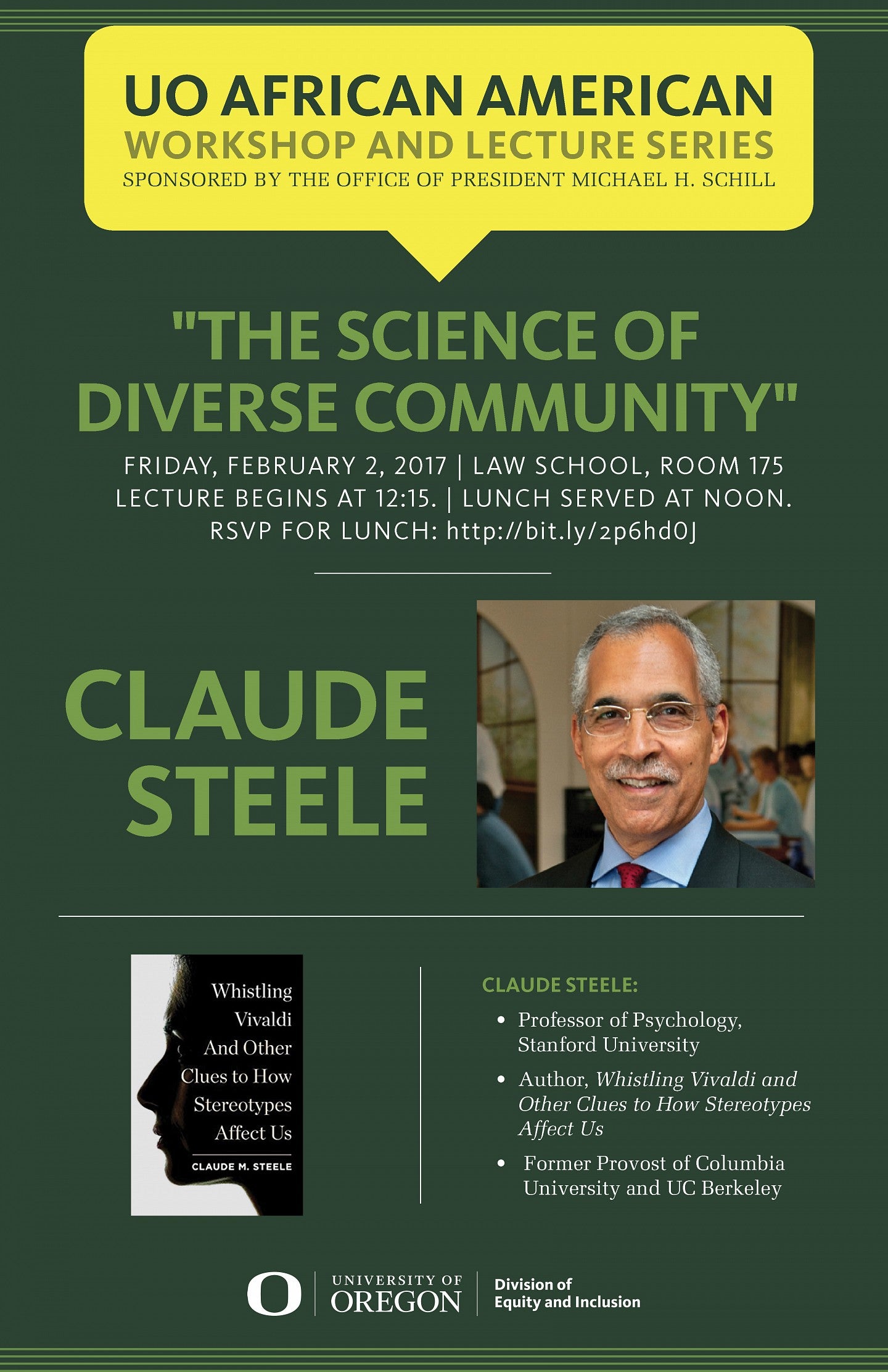 Claude Steele
Social Psychologist and a Professor of Psychology at Stanford University.
---
Claude M. Steele is an American social psychologist and a Professor of Psychology at Stanford University.  He has also served in several major academic leadership positions.  He was the Executive Vice Chancellor and Provost at UC Berkeley, the I. James Quillen Dean for the School of Education at Stanford University and the 21st Provost of Columbia University.
He is best known for his work on stereotype threat and its application to "minority student academic performance."  His earlier work dealt with research on the self (e.g., self-image, self-affirmation) as well as the role of self-regulation in addictive behaviors.  In 2010, he released his book, Whistling Vivaldi and Other Clues to How Stereotypes Affect Us, summarizing years of research on stereotype threat and the "underperformance of minority students in higher education"
At the UO, Steele will speak on "The Science of Diverse Community." He will take on the challenges that students face and encourage us to create a diverse community where students feel comfortable, where they are able to take advantage of opportunities without concern for their identity and without their identity being a burden of their experience as students. Steele will also address his groundbreaking social psychology research on stereotype threats. He will focus on defining the challenges, and offer general but practical principles of solutions, as well as specific tactics that people can use both as individuals and through institutions to make our diverse communities work. "I'll be making the argument that we know a lot in science that can be of use to us...It's uplifting, actually. There are real, concrete ways to address the challenge, many may have not have heard of before." Steele will also speak and do workshops with small groups across campus during his visit.