CoDaC hosts and facilitates the University of Oregon's institutional membership with the National Center for Faculty Development & Diversity (NCFDD). The Center offers a rich array of faculty-designed tele-workshops/webinars, online short courses and other resources to support the professional development and retention of pre-tenure and tenured faculty, post-doctoral scholars, and doctoral students. The Center provides professional development training, on-campus workshops, and intensive mentoring programs to support academics in making successful transitions throughout their academic careers. The NCFDD training teaches concrete, empirically tested strategies for increasing productivity and pays special attention to the challenges of underrepresented faculty, post-doctoral scholars, and doctoral students.
Activating your membership to the NCFDD is free, and gives you access to:
The Monday Motivator (a weekly email with productivity tips)
Monthly productivity workshops
Monthly Guest Expert workshops
Multi-Week Courses each term
Job listings in the Career Center
Audio recordings, slides and transcripts of all workshops
Private networking forum
Moderated monthly writing challenges to increase your writing productivity
Monthly mentor matches
The online accountability and tracking software for Alumni of the Faculty Success Program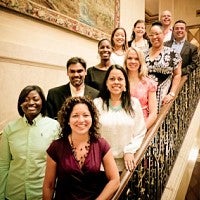 Faculty and graduate students who use the NCFDD's resources report:
Greater success in publication and securing external funding in research
Increased confidence as an independent researcher
Healthier relationships with department colleagues
Increased interactions with both campus-based and external mentors, sponsors, and collaborators
Increased job satisfaction and the ability to enjoy the academic life
NCFDD tele-workshops and short courses cover a wide range of topics relevant to faculty and graduate students at all stages of their careers. These workshops are archived permanently on the site, and include topics such as: 
PUBLISHING: "An Editor's Perspective: The Nuts and Bolts of Academic Publishing," "How to Negotiate an Academic Book Contract," and "Publishing Tips for Mid-Career Scholars." 
EXTERNAL FUNDING: "How to Write Grants and Win Fellowships in the Humanities," "How to Write a Grant Proposal: STEM and SBES," and "How to Seek (and Get!) Foundation Funding." 
WRITING & RESEARCH PRODUCTIVITY: "Writing Through Writer's Block: How to Turn Research Obstacles Into Insight," "Developing Writing Rituals: A Key to Jump-Starting Productivity," Teaching in Color: Effective Strategies for Faculty of Color." 
WORK-LIFE BALANCE: "Academic Motherhood," "Department Chair Intensive: How to Balance Teaching, Research (and Life!) While Transitioning Into an Administrative Role," "What Happens When You Promise Time and Energy You Don't Have?"
What UO Faculty are saying about NCFDD:
I found completing the NCFDD's Faculty Success Program to be a transformative experience.  Learning the practices of daily writing, mentor cultivation, time management, work/life balance and so much more is critical to the success of all academics.  I cannot speak highly enough about this program.   -CAS Assistant Professor
As someone who has invested a great deal of time in mentoring junior faculty, the NCFDD mentorship program provides much needed support for faculty to work through their own personal struggles with writing and publication. And as a tenured faculty member, and someone who is juggling a large administrative load and raising young children, the workshop I attended provided essential tools and strategies for active writing and publication to keep my research active and central, when other competing work interests easily take over my time and focus.   
-CAS Department Head
When I started at the UO, I realized that the NCFDD could be an important resource, particularly in keeping me focused on achieving tenure and providing me with a space to share experiences with other faculty in other places besides the UO. I think that the greatest asset that the NCFDD provides are the regular workshops on everything from publishing to course design to dealing with conflict. – School of Music and Dance Assistant Professor
"The NCFDD workshops have played a significant role in helping me to identify roadblocks in my teaching, research, and service practice, and in designing next steps in crafting a productive and enjoyable career. There is something quite exciting when faculty can see themselves on the cusp of their full potential. The NCFDD is one of the only places that provides step-by-step guidance to help harness and actualize that potential."  -CAS Associate Professor
How to Claim and Access Your Free Account:
The easiest way to claim your account is to send an email with your name, department, and email address to codac@uoregon.edu. You will receive a welcome email within 24 business hours confirming that your account is now active and you can begin fully using your new NCFDD membership. Alternatively, you can follow the directions below to register for your account:
Go to the NCFDD website 
Select the "Become a Member" tab at upper right
Select your institution (University of Oregon)
Select 'Activate my membership
Complete the registration process. At the end, NCFDD will send you an email that requires your response to active your account.