Asian Pacific American Heritage Month is celebrated each May to pay tribute to the achievements and contributions generations of Asian, Desi and Pacific Island Americans have made in the United States. According to a Pew Research Center study, between 2000 and 2015, "The U.S. Asian population had the fastest growth rate of any major racial or ethnic group." 
Asian Pacific American Heritage Month was first designated as Asian-Pacific Heritage Week by Representatives Frank Horton of New York and Norman Y. Mineta of California. It was celebrated the first ten days of May. In 1978, a bill was passed and signed by President Jimmy Carter to designate the annual celebration. In 1990, President George H. W. Bush signed a bill to extend the week-long celebration into the full month of May.
May was chosen to commemorate the date, May 7, 1843, which marked the immigration of the first Japanese to the United States. The month also marks the anniversary of the completion of the transcontinental railroad, May 10,1869, in which the majority of the workers were Chinese immigrants.
The University of Oregon celebrates Asian Pacific American Heritage Month each year with a wide variety of events that celebrate, honor and highlight the work and culture of Asian, Desi, & Pacific Islander communities.
---
ADPI Heritage Month 2023: Challenging Reactionary Solutions by Vice President for Equity and Inclusion, Yvette Alex-Assensoh It is becoming a grim tradition this time of year to review the Stop AAPI Hate data and acknowledge that the issue is continuing to get worse. When you factor in particularly tragic spectacles such as the mass shooting in Monterey Park, California in January where a gunman killed 11 Asian American people at a dance hall, it's even more distressing. Frustrating but unsurprisingly, far too many people attempted to minimize this tragedy by implying that the fact that the gunman was an Asian American man invalidated any reasons to treat it as an instance of the systemic danger Asian Americans face. In many ways, this is a reflection of how the national discourse has been oversimplified and often weaponized to obscure and divert energy away from a glaring problem: increasing anti-Asian hate crimes...Read more 
2022 Asian Pacific Island Heritage Month Events and Activities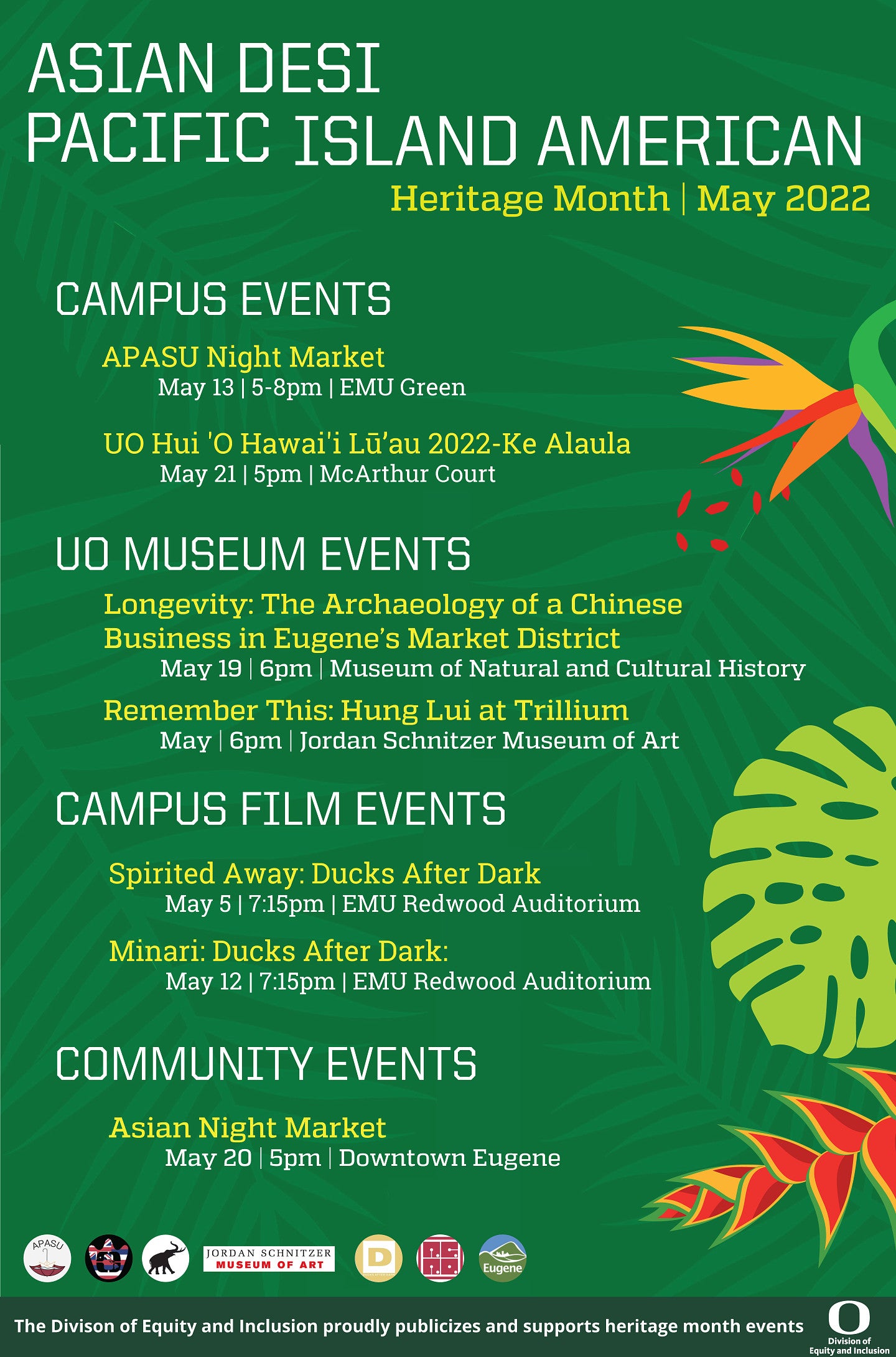 2022 Events
May 1 | Ascending to New Heights: VSA Cultural Night
May 5 | Ducks After Dark: Spirited Away
May 7 | Bayanihan: "Feels Like Home" Pilipino Culture Night
May ​​​​​​9 | Korean Cultural Night
May 12 | Ducks After Dark: Minari
May 13 | APASU Night Market
May 19 | Longevity: The Archaeology of a Chinese Business in Eugene's Market District
May 20 | Asian Night Market
May 21 | UO Hui'O Hawai'i Lu'au
May- August | Remember This: Hung Lui at Trillium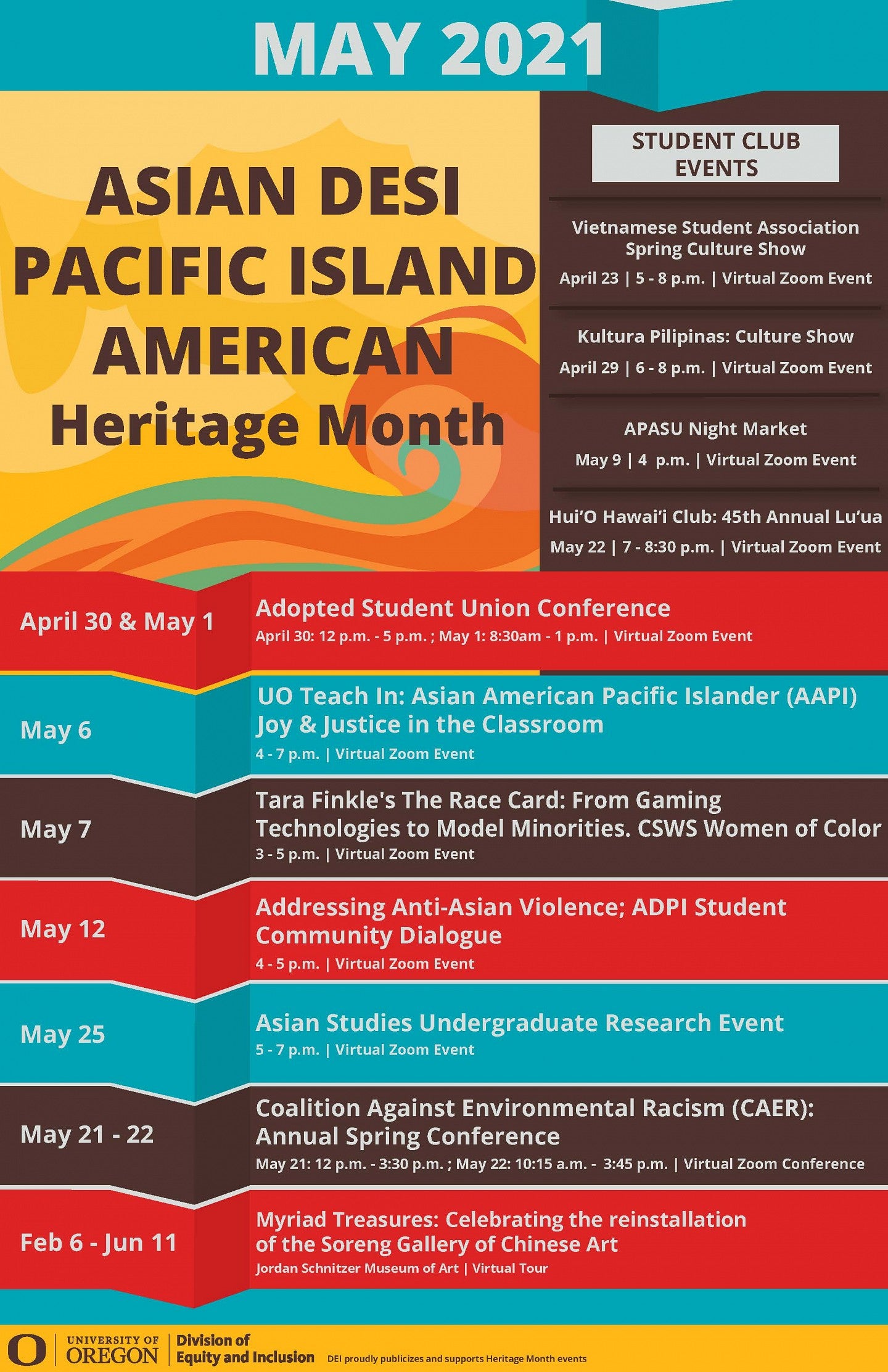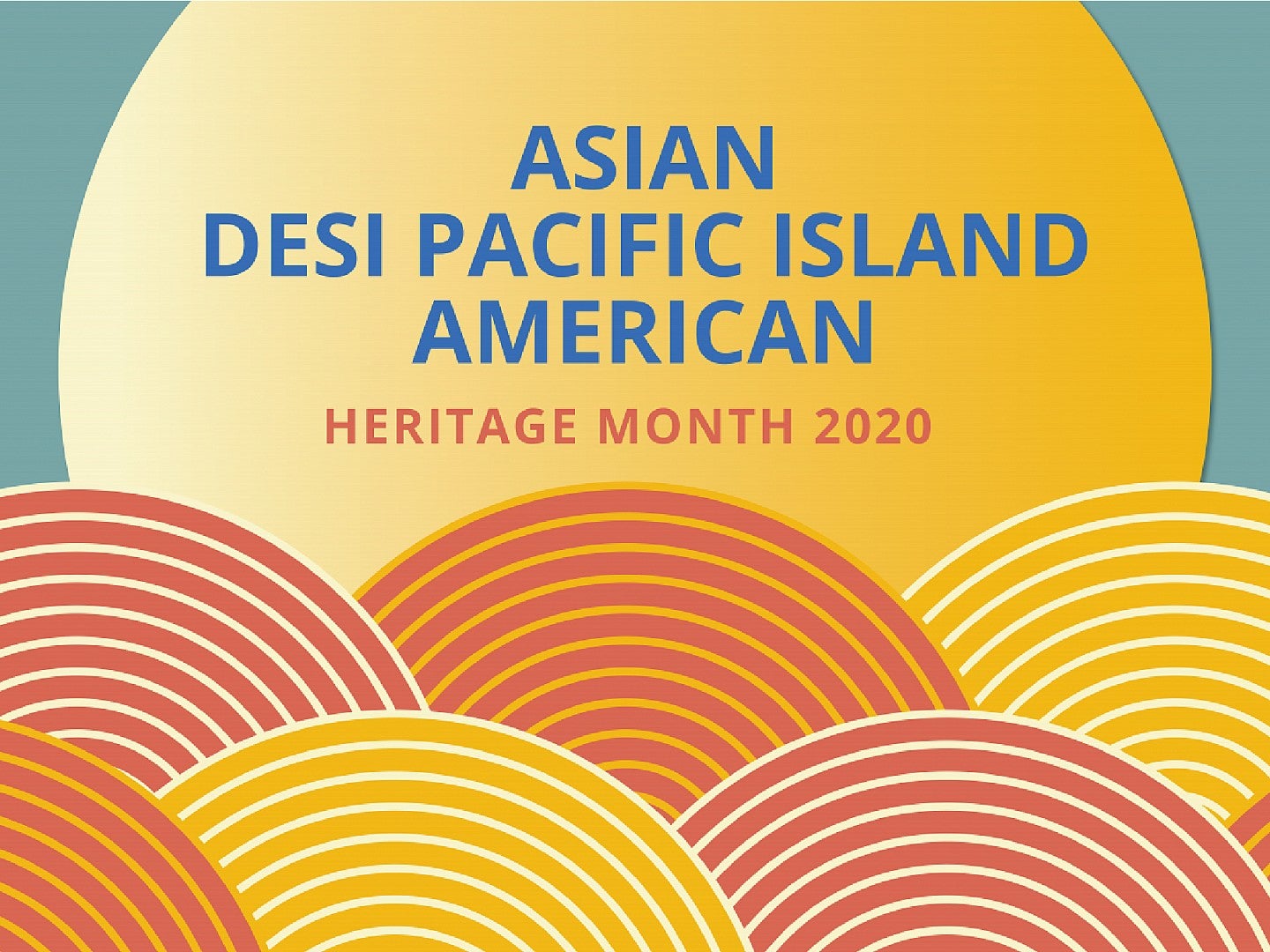 2020 Events
Minute Exhibits, Jordan Schnitzer Museum of Art

Online Webinar, hosted by the Graduate School Registration, Addressing Anti-Asian microaggressions and hatred during the pandemic

Lasting Impact of the Internment of Japanese AmericansCity Club of Eugene Facebook broadcast
Watch videos from Asian Desi Pacific Island Heritage Month here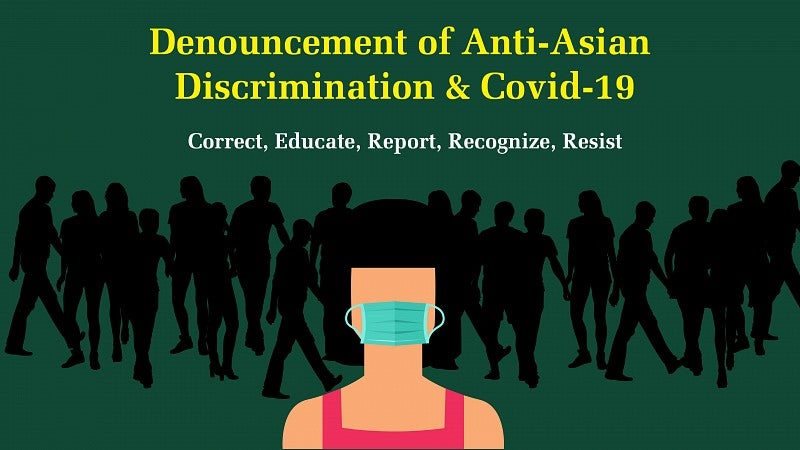 Denouncement of Anti-Asian Discrimination & Covid 19
A statement by the UO Asian Desi Pacific Islander) Strategies Group (ADPI), UO Division of Equity & Inclusion, Black Strategies Group, Native American Strategies Group, Latinx Strategies Group and Sexual Orientation Gender Identity and Expression (SOAGIE) Strategies Group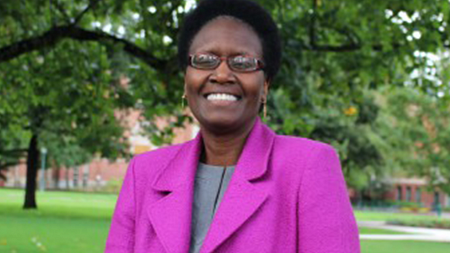 ADPI Heritage Month in the Midst of COVID-19 by Yvette Alex-Assensoh, VP for Equity and Inclusion. As the world continues to feel the effects of the COVID-19 pandemic, we are seeing an emboldened anti-Asian sentiment sweep throughout the country, despite the fact that Asian Americans are overrepresented on the front lines fighting COVID-19. This story, unfortunately, isn't new, but it's a reminder of the importance of learning about and celebrating the historical contributions of ADPI communities, both this month and all throughout the year... Read More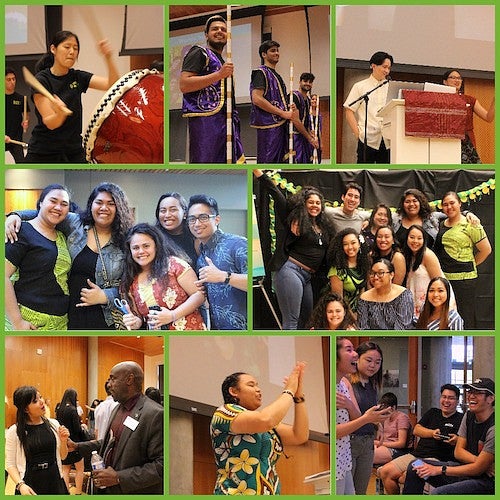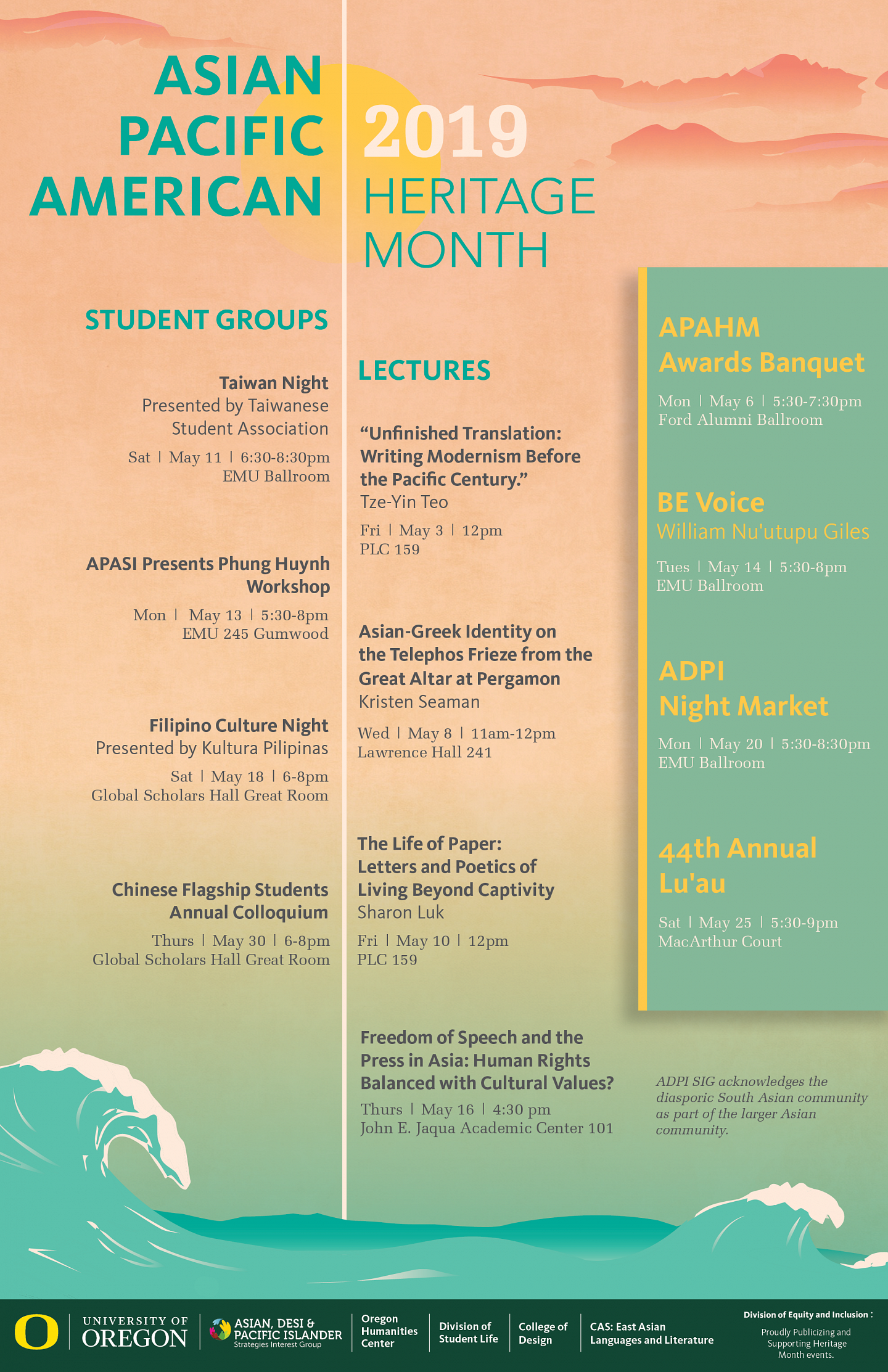 2018 Asian Pacific Island Heritage Month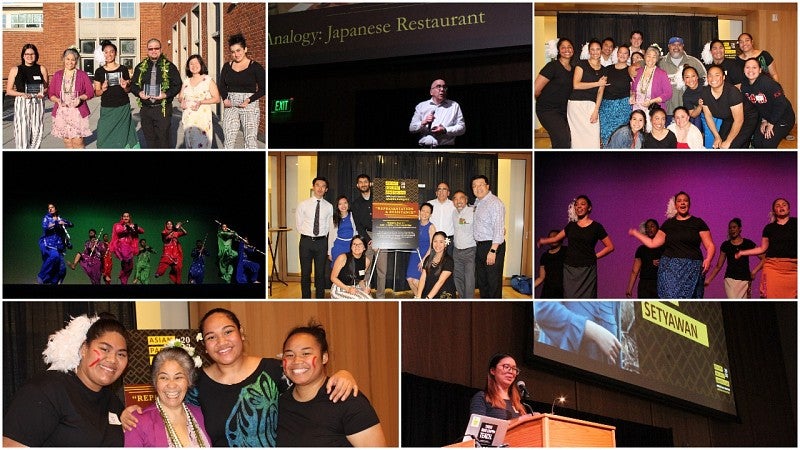 2018 Award Winners 
Award Winners
Faculty/Staff – Kris Galago 
Students – Kezia Setyawan; Yasi Milani-Baladi; Kristy Lu; Polani Mo'okini; 
Community – Jason Mak
---
2017 Award Winners 
Award Winners
Faculty/Staff – James Chang, Krista Chronister, Gordon Hall 
 Students – Undergraduates: Srushti Kamat, Coua Xiong, Elirissa Hui, Alex Tang, Jasmine Alik, Diana Nguyen
Graduates: Alexandra Lau, Keisha Janney
Community – Melissa 'Mimi' Nolledo - Photographer/Documentarian, Immigrant Stories of America, Ardyn Wolfe & David Tam (shared) - Co-Chairs, Asian Celebration
Story Teller Award – Kylie Juggert