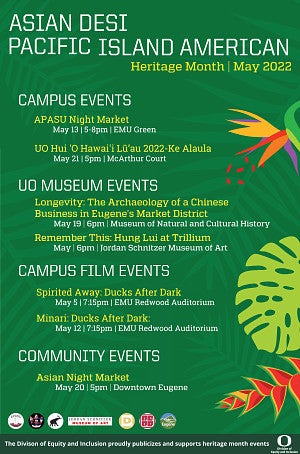 More information on events below and as it becomes available
---
MAY 1, 2022 | 6pm | EMU BALLROOM 

 Vietnamese Student Association  31st Annual Culture Show: Ascending to New Heights. Culture show is a time to embrace various aspects of Vietnamese culture including music, dancing, acting, and cuisine! The story of rebirth and character growth is showcased as their main character navigates his way through his transition from high school to college.

 

 

May 5, 2022 | 7:15PM | Redwood Auditorium 214

FREE movie, activities and snacks! Entry is FREE for UO students with a valid UO ID.

Doors open, and activities start, at 7:15pm. Movie will start at 8pm.

MAY 7, 2022 | 5:30 PM | EMU BALLROOM 

Join Kultura Pilipino in celebrating Filipino culture through dances, food, and different performances! 

May 9, 2022 | 5:30 PM | EMU BALLROOM 

Korean Student Association is hosting thier annual K-Night. There will be traditional and K-pop performances, fashion show, photo booth, Korean food, raffle, and more! Join them to celebrate and learn about Korean culture. 

May 12, 2022 | 7:15pm | Redwood auditorium 214

FREE movie, activities and snacks! Entry is FREE for UO students with a valid UO ID.

Doors open, and activities start, at 7:15pm. Movie will start at 8pm.

MAY 13 | 5-8 PM | EMU GREEN 

APASU Night Market 

An annual event from the Asian Pacific American Student Association celebrating identity, and featuring multiple clubs on campus that identify as Asian and Pacific American. It will be a night filled with performances and food.

May 19, 2022 | 6pm | museum of natural and cultural history

Join MNCH archaeologists Jon Krier, Marlene Jampolsky, and Chris Ruiz for a glimpse into how the business successfully operated amidst racist laws and a predominantly Euro-American community. Cosponsored by the Oregon Historical Society.

Space is limited and reservations are required for the presentation. Registration opens for members on May 3 and to the public on May 4.

May 20, 2022 | 5pm | Eugene Downtown East park block

Celebrating Asian American and Pacific Islander Heritage Month

May 21 2022 | Doors open 4:30PM; Event starts 5PM | McArthur court

UO Hui 'O Hawai'i presents their 47th Annual Lū'au-"Ke Alaula" (The Light of Daybreak). A lū'au is a celebration that embraces the Hawaiian culture and the company of one another that Hui 'O Hawai'i invites you to experience. All are welcome to this event that includes live music, authentic Hawaiian food, and a program featuring traditional Hawaiian dances. 

MAy - August 2022 

Tn this exhibition, renowned contemporary Chinese-American artist Hung Liu explored subjects ranging from portraits to landscapes to still life images and reflects upon history, memory, tradition, migration, and social justice with a photo attached. 
ADPI Heritage Month 2022: What We Can Learn from the Theory of Racial Triangulation by Vice President for Equity and Inclusion, Yvette Alex-Assensoh

Two years ago, 'Stop Asian Hate' emerged as a rallying cry and social media hashtag in response to the spike in anti-Asian hate crimes in the United States. Not only have the hate crimes continued since, but national discussions questioning what people are actually doing to stop the hate crimes, besides talking about them, have become an annual tradition ironically commemorating the creation of the hashtag. People in ADPI communities throughout the country are understandably concerned for their safety and frustrated by the lack of substantive action. Clearly, the work must go deeper...Read more 
---
Watch videos from Asian Desi Pacific Island Heritage Month here
Asian Pacific American Heritage Month is celebrated each May to pay tribute to the achievements and contributions generations of Asian, Desi and Pacific Island Americans have made in the United States. According to a Pew Research Center study, between 2000 and 2015, "The U.S. Asian population had the fastest growth rate of any major racial or ethnic group." 
Asian Pacific American Heritage Month was first designated as Asian-Pacific Heritage Week by Representatives Frank Horton of New York and Norman Y. Mineta of California. It was celebrated the first ten days of May. In 1978, a bill was passed and signed by President Jimmy Carter to designate the annual celebration. In 1990, President George H. W. Bush signed a bill to extend the week-long celebration into the full month of May.
May was chosen to commemorate the date, May 7, 1843, which marked the immigration of the first Japanese to the United States. The month also marks the anniversary of the completion of the transcontinental railroad, May 10,1869, in which the majority of the workers were Chinese immigrants.
The University of Oregon celebrates Asian Pacific American Heritage Month each year with a wide variety of events that celebrate, honor and highlight the work and culture of Asian, Desi, & Pacific Islander communities.
Asian and Pacific American Heritage Month Awards Night first began at the UO in 2015. Former CMAE Academic Advisor and Asian and Pacific Islander Student Retention Specialist, David To, started development of the Awards Night when he first got to campus the summer of 2014. David felt that while student groups had previously done events for Asian and Pacific Heritage Month there was a lack of a specific signature event hosted by the university. David felt it was important to have the UO host an event that not only celebrated the achievements of the Asian and Pacific American community but also brought in unique perspectives on the Asian and Pacific American experience through education and social justice.
While spearheading the initial work David admits how vital it was for him to form partnerships with departments and individuals across the campus. This necessity for interdepartmental work also helped initiate the development of the Asian Desi Pacific American Strategic Initiatives Group.
"It was really beautiful that people all over campus came together to do this…different levels of people came together – students, administration, staff, community members came together to make this event." – David To
Serving as Asian Pacific and American Heritage Month's signature event – Awards Night seeks to not only celebrate the efforts of those in our respective community but also educate and allow those who do not identify as Asian, Desi, Pacific Islander to learn about our communities.
---
---
 2021 Asian Pacific Island Heritage Month Events and Activities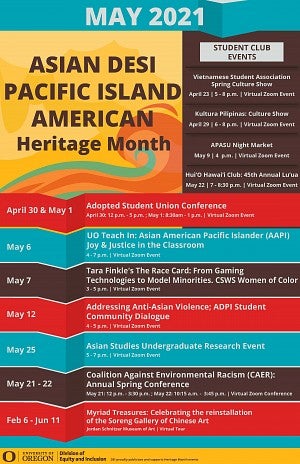 2021 Events
April 23 | VSA Spring Culture Show
April 29 | Kultura Pilipinas (KP) Culture Show
April 30  & May 1 | Adopted Student Union Conference
May 3 | Countering Violent Extremism in Pakistan: Anita Weiss Book Talk
May 6 | UO Teach IN: Asian American Pacific Islander (AAPI) Joy & Justice in the Classroom
May 7 | CSWS Women of Color Books In Print Event w/ Tara Fickle
May 9 | APASU Night Market
May 12 | Addressing Anti-Asian Violence: ADPI Student Community Dialogue
May 13 | School of Languages and Global Studies Seminar: Jun Lang
May 13 | Conversations about Our World: "Identity, Ambivalence, Homecoming: Travels Between Asian and Asian American Studies"
May 19 | Sanctuary, A Performance
May 21 & 22 | Coalition Against Environmental Racism (CAER) Annual Spring Conference
May 22 | Hui'O Hawai'i Club 45th Annual Lu'ua: "A Hui Hou/Until We Meet Again"
May 25 | Asian Studies Undergraduate Research Event
Feb 6, 2020 - Jul 11 2021 | Myriad Treasures: Celebrating the Reinstallation of the Soreng Gallery of Chinese Art at The Jordan Schnitzer Museum of Art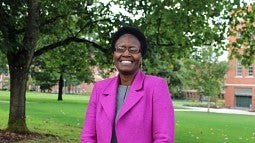 A message from Yvette Alex-Assensoh, Vice President of Division of Equity and Inclusion
ADPI Heritage Month in the Midst of COVID-19
As the world continues to feel the effects of the COVID-19 pandemic, we are seeing an emboldened anti-Asian sentiment sweep throughout the country, despite the fact that Asian Americans are overrepresented on the front lines fighting COVID-19. This story, unfortunately, isn't new, but it's a reminder of the importance of learning about and celebrating the historical contributions of ADPI communities, both this month and all throughout the year. During this watershed moment in American history, Asian, Desi, and Pacific Islander Heritage Month takes on even more importance.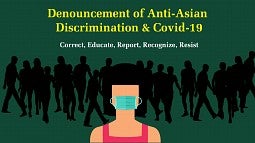 A statement by the UO 

Asian Desi Pacific Islander) Strategies Group (ADPI), UO Division of Equity & Inclusion, Black Strategies Group, Native American Strategies Group, Latinx Strategies Group and Sexual Orientation Gender Identity and Expression (SOAGIE) Strategies Group 
---
2020 Asian Pacific Island Heritage Month Events and Activities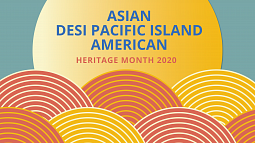 2020 Events
Minute Exhibits, Jordan Schnitzer Museum of Art

Online Webinar, hosted by the Graduate School Registration, Addressing Anti-Asian microaggressions and hatred during the pandemic

Lasting Impact of the Internment of Japanese Americans
City Club of Eugene Facebook broadcast
---
2019 Asian Pacific Island Heritage Month Events and Activities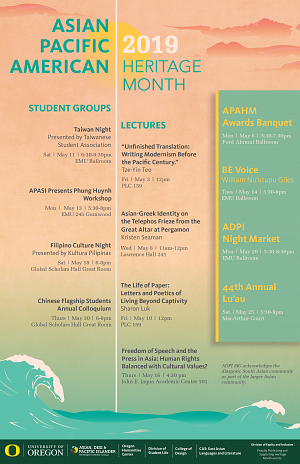 2019 Events and Award Winners
Faculty/Staff – Joann Zhang 
Students – Frankie Cao; Madeline Do; Madilyne Nguyen-Acosta; Savannah Kan
Community – Ken and Irene Nagao
Asian Pacific American Heritage Month Awards Banquet 2019
"Unfinished Translation: Writing Modernism BEfore the Pacific Century""
APAHM Award Banque
Asian-Greek Identity on the telphos Frieze from the Great Altar at Pergamon - Kristen Seaman
The Life of Paper: Letters and Poetics of Living Beyond Captivity
Taiwan Night
APASU Presents a Workshop with Phung Huynh
BE Voice - William Nu'utupu Giles
Freedom of Speech and the Press in Asian: Human Rights Balanced with Cultural Values?
Filipino Culture Night
ADPI Night Market
Book Celebration: "Asian American Feminisms and Women of Color Politics"
44th Annual Lu'au
Chinese Flagship Annual Colloquium 
---
---
2018 Asian Pacific Island Heritage Month Events and Activities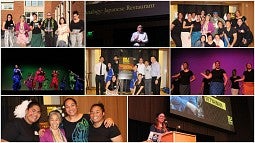 2018 Award Winners and Events 
Award Winners
Faculty/Staff – Kris Galago 
Students – Kezia Setyawan; Yasi Milani-Baladi; Kristy Lu; Polani Mo'okini; 
Community – Jason Mak
Events
UTSAV
DISORIENT Film Festival
Hong Kong Night
Korea Night
Japan Night
International Week
Long Nineteenth Century Japanese Woodblock Prints
Reverence and Pleasure: Highlights of the Shōbundo Nōsatsu Collection
2018 APAHM Awards Banquet "Representation & Resistance"
Lecture: "The Art of Directing" with Chloé Zhao
Film: Songs My Brothers Taught Me Q&A with Dir. Chloé Zhao
North Korea Behind the Headlines: Politics, Society, and Culture workshop 
Anna Akana
BE Change with Scot Nakagawa Lecture
Deepak Chopra
Film: The Rider Q&A with Dir. Chloé Zhao
Filipino Cultural Night
SUSAN CHOI: Asian American novelist
ADPI Night Market
Hui 'O Hawai'i 43rd Annual Lū'au
Racist Sandwich Podcast
ADPI Ice Cream Social
Holi 2018
ANN CURRY: television personality, journalist
---
2017 Award Winners and Events
Award Winners
Faculty/Staff – James Chang, Krista Chronister, Gordon Hall 
 Students – Undergraduates: Srushti Kamat, Coua Xiong, Elirissa Hui, Alex Tang, Jasmine Alik, Diana Nguyen
Graduates: Alexandra Lau, Keisha Janney
Community – Melissa 'Mimi' Nolledo - Photographer/Documentarian, Immigrant Stories of America, Ardyn Wolfe & David Tam (shared) - Co-Chairs, Asian Celebration
Story Teller Award – Kylie Juggert