2014 Dr. Martin Luther King, Jr. Award Winners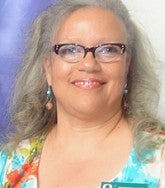 Paula Braswell, Director of Admissions, Clark Honors College
The legacy of Dr. King's mission has left an indelible mark on my life. His prophetic words, like the enduring threads that tie generations together, have lasted through the years imprinting his causes of "faith," "character," and "freedom" on my consciousness. Dr. King's faith in Jesus Christ particularly resonates for me, as the cause of Christ is not only the cornerstone of my own belief, but also the basis for my "character" and true source of my "freedom." To me, the purest definition of faith – "The substance of things hoped for, the evidence of things not seen," affirms that while Dr. King was unable to witness many of the results of his work, the offering of this award at the University of Oregon is a resounding embodiment of his legacy.
The role of service is woven in and through my daily work: assisting prospective students through the admissions process, addressing questions and concerns from prospective parents and school counselors, and collaborating with Clark Honors College colleagues and university partners to prepare for the subsequent arrival of incoming students. It is my delight to go the extra mile for a new or current student, a parent, or for a colleague.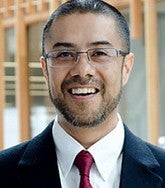 Daniel Pascoe Aguilar, Director, UO Career Center
I am deeply humbled and tremendously honored to have been nominated and selected for this award, and cannot think of an award that would make me prouder and more eager to keep moving forward! My low socio-economic status upbringing in México City, my experience as a person of color in México and the US, my educational journey with undiagnosed dyslexia, and my international and immigration experience in the US have taught me that whether privileged, limited or oppressed, we all have been called to seek opportunity for and support everyone regardless of their uniqueness and how they define themselves. 
Every day I invest my strength in the collaborative design of educational systems that can help students become aware of their need to engage and to help us collaborate with them in their development of a concrete professional and contributing return on investment of their college education. I have learned that strong educational systems require strong collaboration across teams and across sectors of our center, divisional, institutional, local, national, and international community, and I do my best to work as closely, inclusively, caringly, and productively as possible to develop healthy, informed, and multicultural communication, interaction, and collaboration systems to pursue our mission with all of our constituents.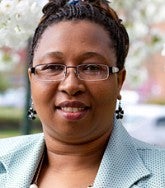 Jane Irungu, Director Center for Multicultural Academic Excellence
Winning an MLK Award is humbling. It is an honor, and an affirmation that our work in support of access, equity, inclusion, and student retention is a valuable service not only on our campus but in society as a whole.
In my day-to-day work, I take my responsibilities as an educator seriously with an understanding that education is a human right; it's a tool for transformative change. My role is making sure that students have an opportunity to succeed. I have to light the path and guide them toward the fulfillment of their aspirations.
I understand service to mean selfless giving, embodying not only compassion but ideals of social justice and equity, working to make a positive difference in the lives of others – at whatever level in whatever capacity. That realization is with me each day. I am here not only to work, but also to make a difference, to support student success. My job allows me to offer a service that makes meaningful change in the lives of our students and in society. Education facilitates transformation for the individual and for the society, and I am fortunate to be part – albeit in a small way – in that process.

Mariko Lin, Senior Staff Psychologist and Outreach Coordinator, UO Counseling and Testing Center
I could only hope that one perceives me as a person that tries their best to hold true the values of someone I highly revere such as Dr. Martin Luther King, Jr. While remaining in humble disbelief, I feel appreciative to be acknowledged for the passion I have toward service, support of college students (especially those with marginalized identities), retention and social justice issues. I feel incredibly grateful to be viewed alongside those that I have looked up to since stepping onto campus for their unique contributions to our UO community. 
I learned the value of "service" from my family in how they modeled it in their work, within the family, and in their everyday activities. I often see myself quite simply in a role as a "facilitator of learning." One in which I hope to communicate a consistent message of how one can take better care of themselves, which ultimately has an impact on them and the well-being of those around them. While I define service-work by having a positive impact on something much larger than myself, I also see it as a collaborative process, one in which I, too, am a learner from lessons of empathy and humility that come along the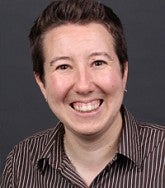 Sarah Smith-Benanti, Special Events Coordinator, Division of Student Affairs
It is humbling to be recognized as a person who upholds and exemplifies the work that Martin Luther King Jr. did, because his example has inspired me to be a passionate activist for social justice, using my voice to create change whenever possible. It is extremely important to me to work toward making our campus a welcoming place for all to live, work and learn, especially when creating campus-wide events. Sometimes MLK Jr.'s ideals can get lost in the day-to-day, which is why I am excited to accept this award and have it serve as a reminder to strive toward a Beloved Community at the University of Oregon.
I have had the pleasure of planning the past two Bowl Game service projects. Every year, I connect with a local food bank and my counterpart at the other university whose football team we are playing. It is a joy to create an experience for current and future students, their families, alumni, staff, and faculty to come together and give back. I love building community and have found that working together for a good cause is a great tool to use to get to know someone.
---
Student Essay Contest Winners
Dan Le for The Traveler's Soliloquy