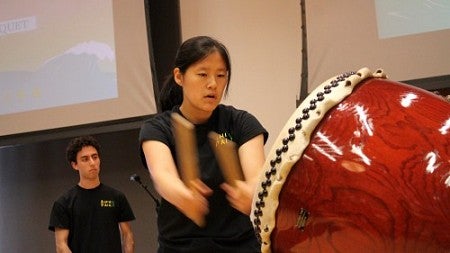 Share stories of your experiences with these activities at this link.

Opportunities listed here were generated from colleagues in the Division of Equity and Inclusion, with inspiration from these sources: Red Cape Revolution, Forbes, Lavender Vines, Love Becomes Her
This week, reflect on what courage is or looks like to you, and why or if it holds value for you.

Reflect or journal about something or someone that intimidates you or that you are fearful of. Why do you feel this way? What are ways you can be courageous and overcome this challenge internally and externally?

Publicly support an issue or cause that you feel strongly about by sharing or posting your support on social media platforms.

Research a noted historical figure who inspires you – identify the ways this individual exhibited courage to achieve their goals or dreams, the personal sacrifices they made along the way, and which of these attributes can be applied in your life or career journey to succeed in your goals. Pair up with a colleague to do this challenge, meet to discuss and share your insights.

Take one or more implicit bias tests at the Harvard Project Implicit web site. Reflect on the work that you will do to redress them so that can be more aware of the ways in which they influence your behavior and decision-making. 

Be brave in evaluating how and where you put your time and energy, assess the quality of your productivity and if you are happy with recent outcomes.

Make a list of the relationships that you need to work on. Identify what's good about them. What needs to be changed and your timeline for moving forward.

List what relationships (personal and professional) could be improved and how.

Take the 7-day courage awareness social media challenge – each day look for a visible act of courage demonstrated around you and post about it.
We'd love to hear how you are doing with these activities. Let us know here.
Ask for honest feedback from friends, family members and colleagues about blind spots and areas that need improvement. Assess the feedback. Where appropriate, put a plan and timeline in place for making the necessary changes.

Find yourself a mentor or a coach and work with them to identify areas of strength and improvement.

Take stock of your strengths, especially the ones that you tend to downplay. Practice leaning and living into them.

Reflect on the ways that you can be a friend to an underrepresented or marginalized person in your workplace, neighborhood, family, faith community, etc.

Volunteer to mentor or coach someone else who can benefit from your expertise, know how and experience.

Identify one of your career insecurities and put in place ways to fortify them.

Journal about what makes you great, personally and professionally. Share your reflections with someone else.

Journal about a weakness you struggle with either professionally or personally.

Write a thank you note to someone who has positively impacted your career.
Please share with us your successes and challenges with these activities here.
Identify a negative habit or personality trait and make a plan for addressing it.

Implement a positive habit.

List the ways in which you are already demonstrating courage.

Admit when and why you use excuses to justify your actions or inactions.

Learn and practice a greeting in another language.

Read a book about courage and identify ways of being and doing that you can emulate.

Find and post or share with others a visual representation of what courage represents to you.

Each day this week, listen to a song or podcast that depicts courage.

Complete a skills or personality assessment test so that you can better understand yourself and how you interact with others.
Reflect on what you learn.

Think about how your personality traits contribute to the overall make-up of your team.
If you normally or naturally wouldn't be inclined to, challenge yourself to speak up in a meeting or a group email regarding an idea or a thought you have about the topic at hand, make a suggestion or share a thoughtful insight. Do your homework on the subject, come prepared to engage, and share your opinion with confidence.
How did you do with these activities? Let us know here.