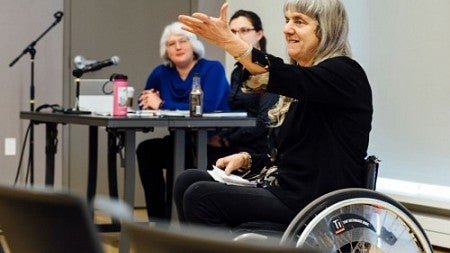 Share your stories of these activities at this link.
Opportunities listed here were generated from colleagues in the Division of Equity and Inclusion, with inspiration from these sources: Red Cape Revolution, Forbes, Lavender Vines, Love Becomes Her
Authenticity is a willingness to share your unique personality with the world. Take time this week to reflect on what makes you unique. How are your embracing or rejecting it? Share your thoughts in a journal entry and/or as part of a conversation with family, friends or a professional colleague.

This week, think about people in your family, at work, in your faith community, neighborhood or social network that are authentic. What makes them authentic? How does their authenticity impact you?  Give at least one of the people that you identified a call and share your thoughts with them.

Being authentic starts with discovering who you are deep at the core. Reflect on what you stand for, your strengths and weaknesses, your passion, and what makes you happy.  In every situation this week, practice being yourself. 

Think about the negative and positive experiences that have shaped you. What about those experiences is surprising, challenging, refreshing? How does your reflection on these experiences help you to become more self-aware and confident?

When you think about your own authenticity, what colors come to mind and why? How does that lens impact the way that you receive authenticity in other people and other contexts?

  We'd love to hear how you are doing with these activities. Let us know here.

This week, think about, write and or share with someone else what you appreciate and love about yourself.

What are the authentic parts of yourself that you love, and that also need to mature, grow or evolve? Why is that so? Take some time this week to think about next steps. 

An important aspect of accepting yourself is to allow self-critical thoughts to dissipate. Imagine that each of your self-critical thoughts is a bubble, that you can burst with a finger tip. Every time one of the self-critical thoughts presents itself, burst the bubble and remind yourself of the good that you are and that you represent. 

Authenticity is also about living in "this" moment.  The past is the past. It is over and done. Take time this week to practice living in the present and reflect on what this means for your emotions, relationships and sense of possibility. 

Authenticity is also about being comfortable with navigating change and remaining true to your inner core. Take time to consider the changes that you are currently experiencing. How are they impacting your ability to remain true to who you are?

What people, activities, issues and things make you feel alive? Spend some time this week being thankful for and showing gratitude for the things that really matter to you. 

This week, take some time to sit, in quiet reflection, for at least 10-15 minutes a day. Notice your breath, quiet your busy mind, just sit and notice who you are. Invite your truest self into each moment.

Please share with us your successes and challenges with these activities here.

Authenticity shines through most effectively when we are healthy. This week, spend some time doting on yourself. What are some things that you can do to incorporate self-care into your regular routine?

This week, practice being aware of your thoughts and the influence of your thoughts on your mood, emotions and actions. This week, practice standing guard at the door of your mind and choose your thoughts with care.

As we grow into authenticity, this week provides an opportunity to use meditation, prayer, contemplation or a walk in nature, to get in tune with your unique spiritual selves. Take time this week to find out and practice what works well for you. 

How you show up at home, work, with your friends, etc., makes a difference. This week, spend some time thinking about and giving thanks for how you make a difference in the lives of the people around you. 

Societal expectations can be challenging to live up to. This week provides an opportunity to intentionally think about and create rules for yourself that match your values. Focus on self-care and things that bring out the best in you. 

Comparing yourself to others only results in evaluating and rating yourself by chasing symbols of status and success. Unlock your authentic self by accepting yourself the way you are and measuring yourself by your standards. What aspects of yourself are easy to accept and what aspects are challenging? 
How did you do with these activities? Let us know here