Our Mission: 
Advancing inclusive excellence through critical thinking
and an ethic of care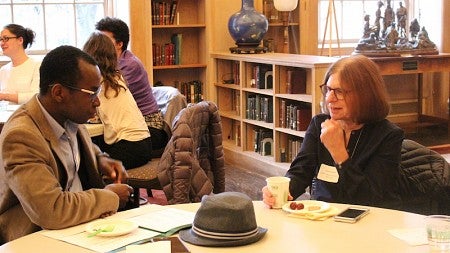 .
 About CoDaC

CoDaC was founded in 2001 by a group of UO faculty, administrators, staff and students committed to advancing inclusive excellence through critical thinking and an ethic of care.

CoDaC became formally incorporated within the Division of Equity and Inclusion with a mandate to work with individuals and units across campus to advance the university's goals of equity and inclusion in 2013. Since then, CoDaC has sponsored a range of training programs, professional development workshops, and public events while providing support for faculty and student groups with guidance from the IDEAL Framework.
From its early days, CoDaC's staff have consisted of a diverse team of research faculty, graduate students, and professionals with backgrounds in psychology, sociology, education, communication, curriculum development, conflict mediation, student affairs, and theater arts.
Our Faculty in Residence Program provides a course-release to work with CoDaC staff on projects related to our mission. We also offer departmental and individualized consulting on:
Equity and inclusion issues

Networking to resources on campus and beyond

Addressing equity and inclusion in promotion and tenure statements
CoDaC is presently led by Charlotte Moats-Gallagher, Ph.D.
Inclusive Excellence
Inclusive excellence involves a re-envisioning of both quality and diversity and is an alloy of both. It embraces expanded definitions and multiple ways of measuring excellence. It is a commitment to creating systems and structures that support engagement, learning, and achievement for all members of the community.
At CoDaC we advance inclusive excellence by deliberately linking the practice of critical thinking with an ethic of care. Critical thinking is the foundation of academic success. It involves a mindful process of inquiry where individuals examine their own and others' assumptions, appraise evidence, and evaluate arguments in the pursuit of knowledge.
An ethic of care is a theory and practice based on the belief in the obligation, both individual and institutional, to establish and maintain relationships with others in the learning process. Embracing an ethic of care means taking responsibility for learning environments and caring about the impact of words and actions among diverse members of a learning community. 
Together, critical thinking and an ethic of care build an expanded and culturally responsive model of inclusive excellence.