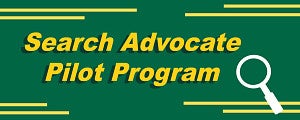 UO Search Advocate Pilot Program: The Basics
What is a Search Advocate?
Search Advocacy is one active recruitment tool that can be used in both faculty and staff searches. A Search Advocate is a consultant/participant who advances inclusive excellence by asking questions to help search committee members:
Test their thinking
Identify and promote practices that advance diversity and social justice
Minimizing the impacts of cognitive and structural biases. 
The Search Advocate training curriculum prepares faculty and staff to serve as advocates on search committees.
Who oversees the pilot program?
Led by the Division of Equity and Inclusion and working closely with Human Resources and the Office of the Provost. 
Workshop Leader: Anne Gillies, Search Advocate Program Director, Oregon State University
Search Advocate Pilot Core Team
Sierra Dawson, Office of the Provost
Charlotte Moats-Gallagher, Division of Equity and Inclusion (Team Lead)
Melanie Muenzer, Office of the Provost
Nancy Nieraeth, Human Resources
Ben Young, College of Arts and Sciences, Natural Science
For more information about UO's Talent Acquisition work in Human Resources, please see: https://hr.uoregon.edu/recruit.
Question, Concerns, Info – Contact: Charlotte Moats-Gallagher, Division of Equity and Inclusion, cmoatsga@uoregon.edu