2020_2021 African-American Workshop and Lecture Series speakers are virtual.
See video clips of all guest speakers
Fall Speakers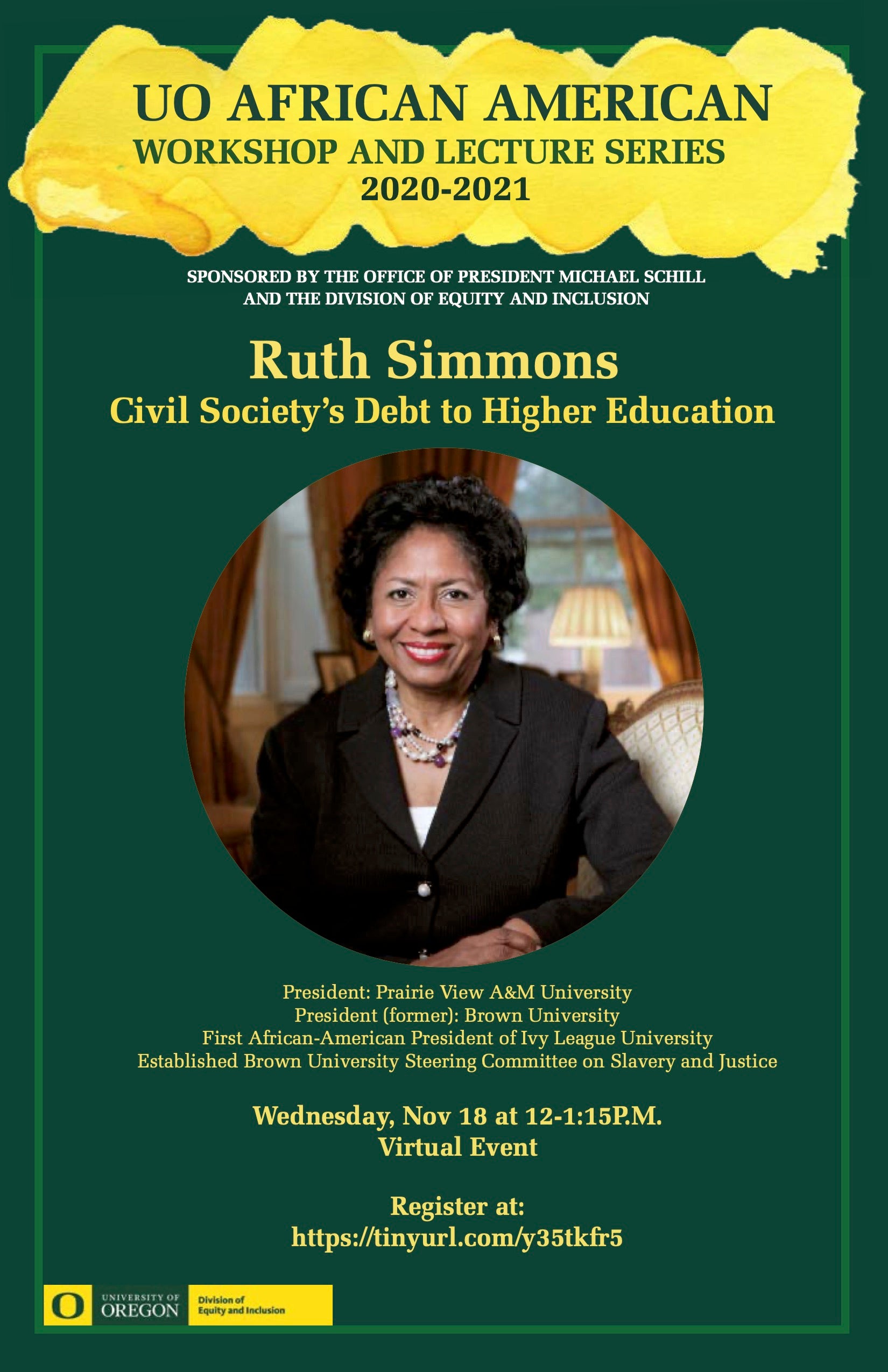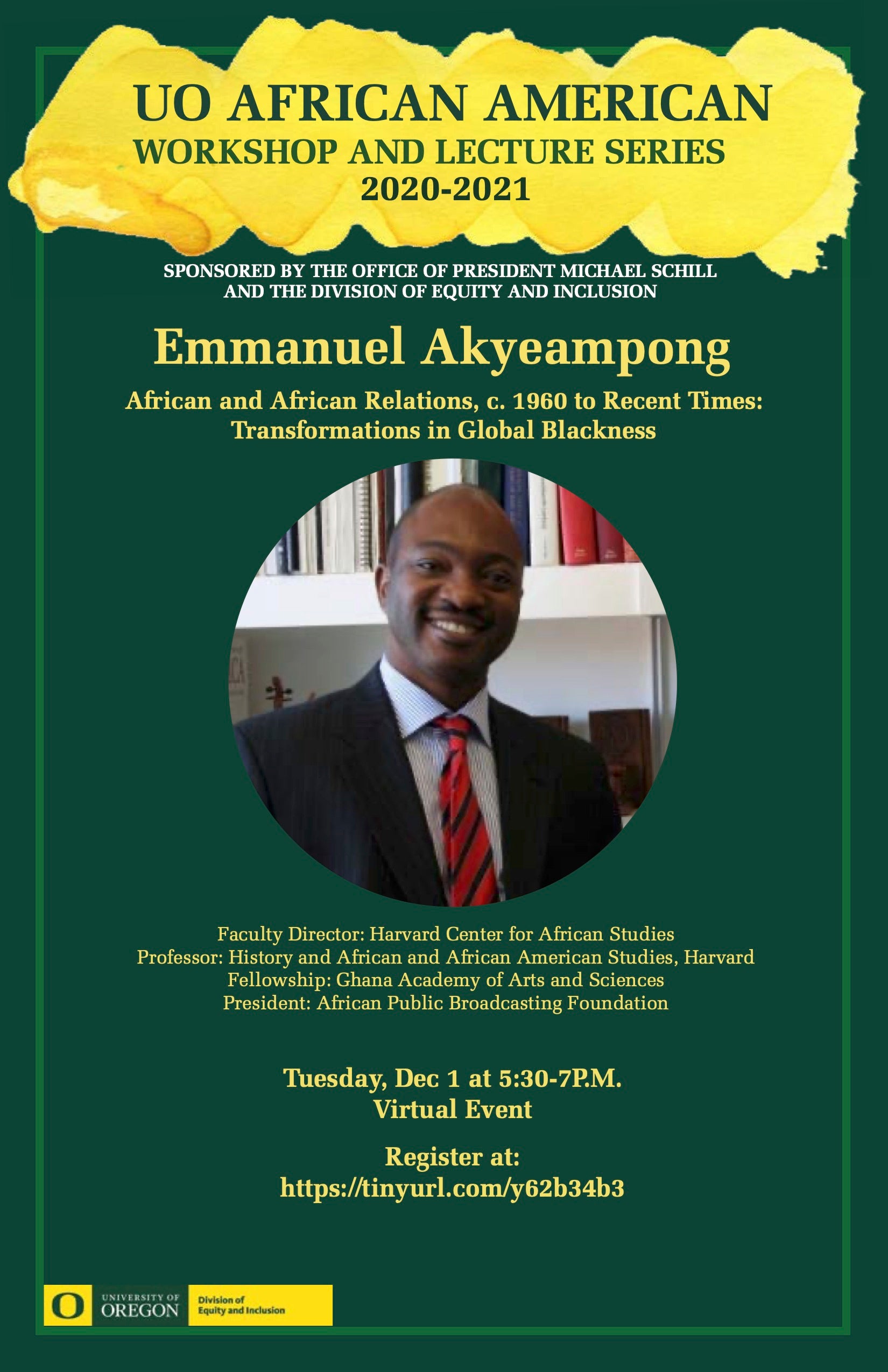 Winter/Spring Events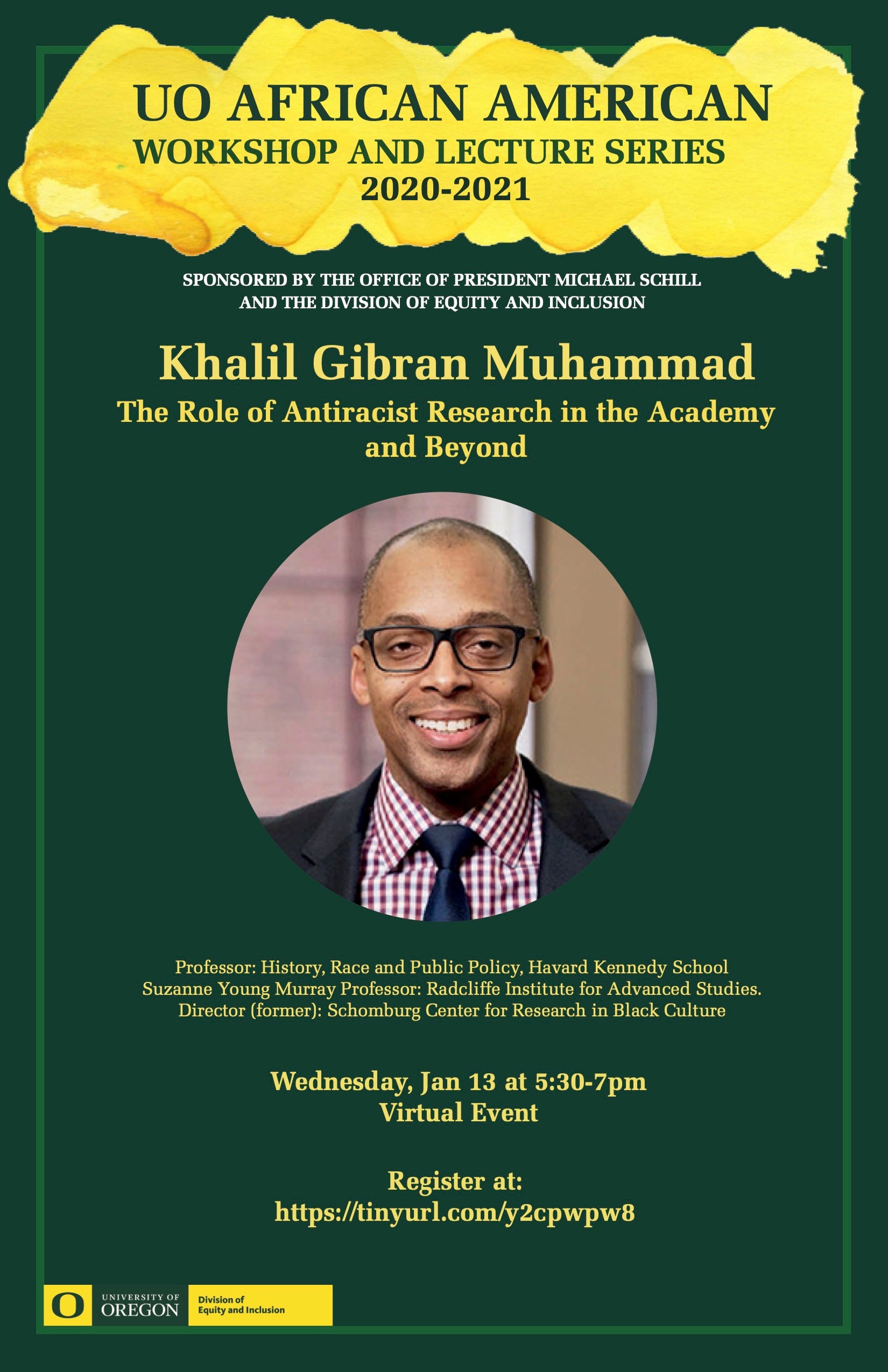 Khalil Gibran Muhammad
January 13, 2021
The Role of Antiracist Research in the Academy and Beyond
5:30 - 7 p.m.
Khalil Gibran Muhammad is a Professor of History, Race and Public Policy at Harvard Kennedy School and the Suzanne Young Murray Professor at the Radcliffe Institute for Advanced Studies. He is the former Director of the Schomburg Center for Research in Black Culture, a division of the New York Public Library. Khalil's scholarship examines the broad intersections of race, democracy, inequality and criminal justice in modern U.S. history. Khalil is an award-winning teacher at Harvard and has received numerous honors for his commitment to public engagement, including BPI Chicago's Champion of the Public Interest Award ,The Fortune Society's Game Changer Award, Ebony Power 100, The Root 100 of Black Influencers, and Crain's New York Business magazine 40 under 40.
Watch a video clip of Bill Moyers and Khalil Muhammad on Facing Our Racial Past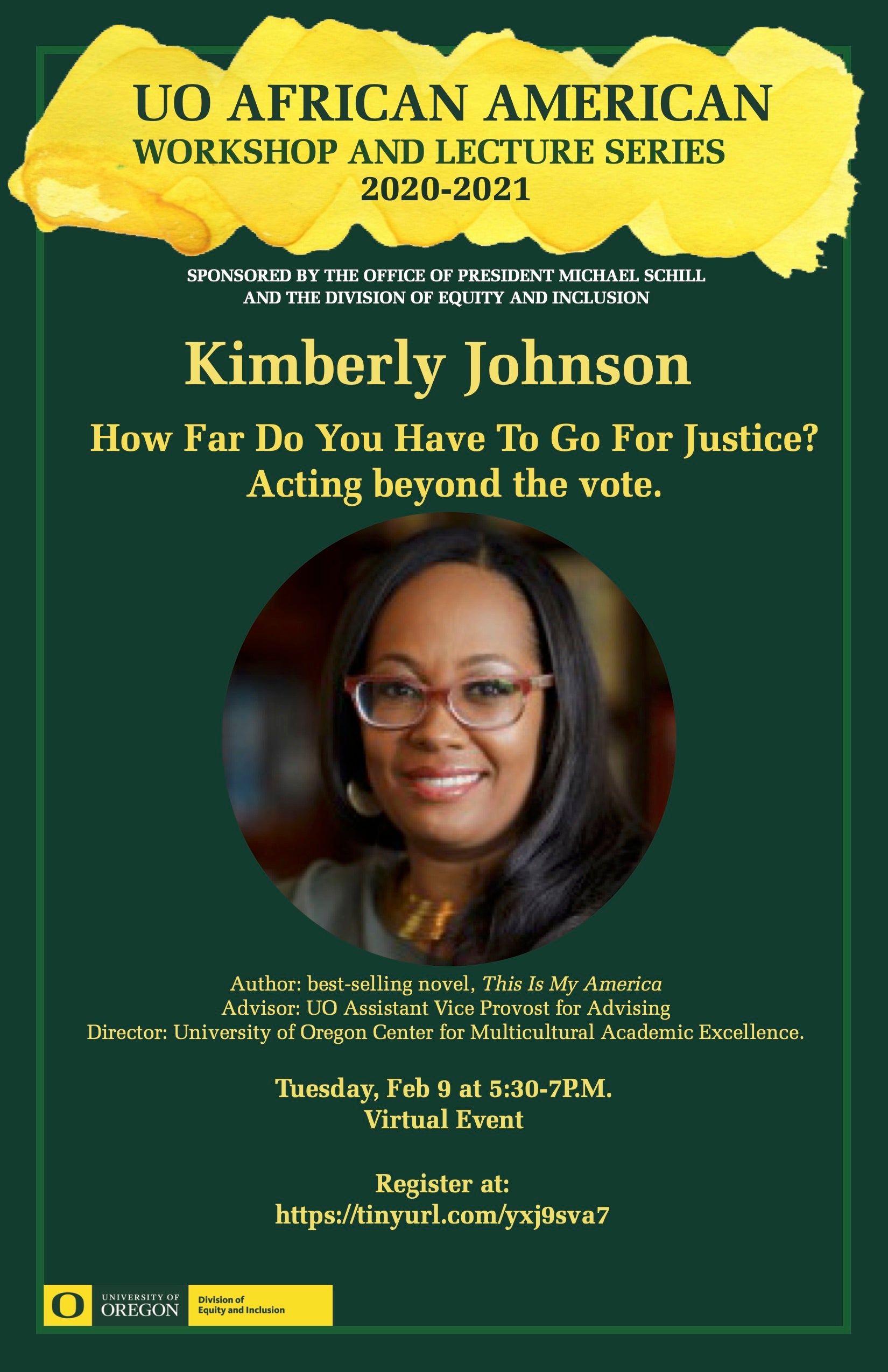 Kimberly Johnson
February 9, 2021
How Far Do You Have To Go For Justice? Acting beyond the vote.
5:30 - 7 p.m.
Kim Johnson will discuss the inspirations of her timely best selling novel This Is My America, delving into the themes of how racial injustice in our criminal justice system leads to mass incarceration and excessive punishment. She will delve into our 2020 elections and our responsibility in not only our electoral process, but broader acts of social justice and civic engagement.
Kimberly Johnson held leadership positions in social justice organizations as a teen and during her time as a student at the University of Oregon. She is now the UO Assistant Vice Provost for Advising and Director for the Center for Multicultural Academic Excellence. 
Watch the book trailer for This is My America
Lia Epperson
Are We Still Not Saved? Race, Democracy, and Educational Inequality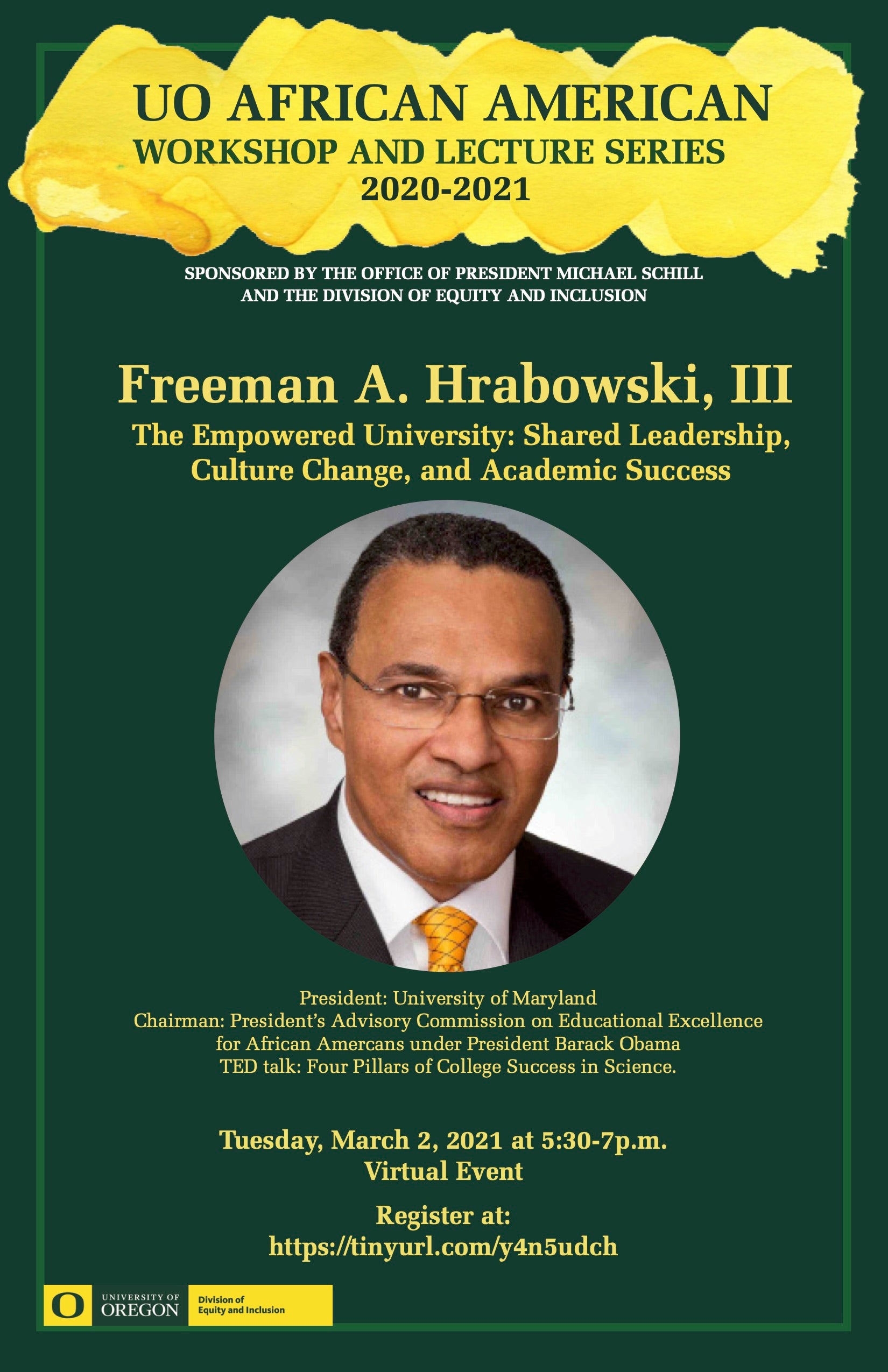 Freeman A. Hrabowski, III
March 2, 2021
The Empowered University: Shared Leadership, Culture Change, and Academic Success  
5:30-7 p.m.
Freeman Hrabowski has served as President of The University of Maryland, Baltimore County since 1992. His research and publications focus on science and math education, with special emphasis on minority participation and performance. He chaired the National Academies' committee that produced the 2011 report, Expanding Underrepresented Minority Participation: America's Science and Technology Talent at the Crossroads. He was named in 2012 by President Obama to chair the President's Advisory Commission on Educational Excellence for African Americans. His 2013 TED talk highlights the "Four Pillars of College Success in Science."
Watch a video clip about Freeman Hrabowski
Past Speakers 
Honorable Eric Holder
October 20, 2020​​​​​​
Defending Democracy: A Conversation with Eric H. Holder, Jr., 82nd Attorney General of the United States (2009-2015)
12 - 1:15 p.m.
A Wayne Morse Center for Law and Politics 20th anniversary keynote
Eric Holder is an internationally recognized leader on a broad range of legal issues and a staunch advocate for civil rights. He served in the Obama Administration as the 82nd Attorney General of the United States from February 2009 to April 2015, the third longest serving Attorney General in U.S. history and the first African American to hold that office.
Watch Five Questions with Eric Holder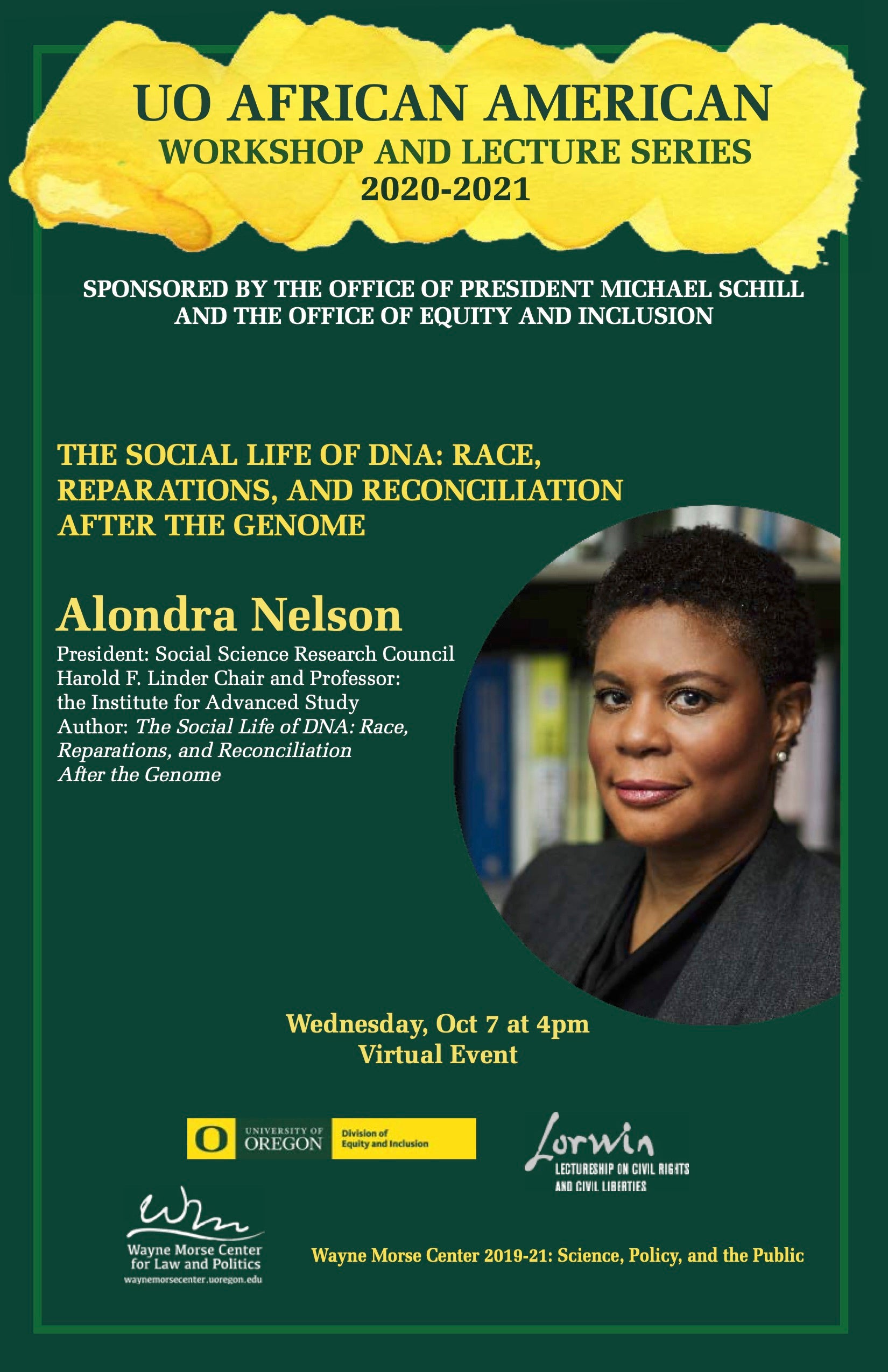 Alondra Nelson
October 7, 2020
4-5:30 p.m.
The Social Life of DNA: Race, Reparations, and Reconciliation After the Genome
Alondra Nelson, an award-winning sociologist, is president of the Social Science Research Council and the Harold F. Linder Chair and Professor at the Institute for Advanced Study.  She has published widely-acclaimed books and articles exploring science, technology, medicine, and social inequality, including The Social Life of DNA: Race, Reparations, and Reconciliation after the Genome, a finalist for the Hurston-Wright Foundation Award for Nonfiction and a Wall Street Journal favorite book. 
Watch a video clip of Alondra Nelson on C-Span Book TV