We work collaboratively to strengthen individual capacity and community bonds to advance the academic mission of the university through
Inclusion, Diversity, Evaluation, Achievement Leadership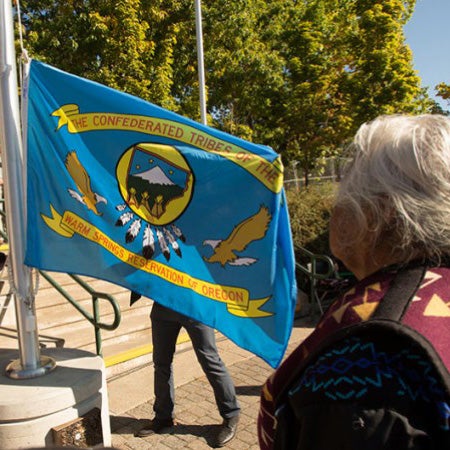 Land Acknowledgement
The University of Oregon is located on Kalapuya ilihi, the traditional indigenous homeland of the Kalapuya people. Following treaties between 1851 and 1855, Kalapuya people were dispossessed of their indigenous homeland by the United States government and forcibly removed to the Coast Reservation in Western Oregon. Today, Kalapuya descendants are primarily citizens of the Confederated Tribes of Grand Ronde and the Confederated Tribes of Siletz Indians, and they continue to make important contributions to their communities, to the UO, to Oregon, and to the world.
In following the Indigenous protocol of acknowledging the original people of the land we occupy, we also extend our respect to the nine federally recognized Indigenous nations of Oregon: the Burns Paiute Tribe, the Confederated Tribes of the Coos, Lower Umpqua and Siuslaw Indians, the Confederated Tribes of the Grand Ronde, the Confederated Tribes of Siletz Indians, the Confederated Tribes of the Umatilla Indian Reservation, the Confederated Tribes of Warm Springs, the Coquille Indian Tribe, the Cow Creek Band of Umpqua Tribe of Indians, and the Klamath Tribes. We express our respect to the many more tribes who have ancestral connections to this territory, as well as to all other displaced Indigenous peoples who call Oregon home.
Strategies and Working Groups are autonomous grass-roots organizations of faculty, staff, and students from Native, Black, Latino, Asian, Desi and Pacific Islander, and white communities. Volunteers donate their personal time and energy in support of making the university a more welcoming place.

Yvette Alex-Assensoh
Vice President for Equity and Inclusion
​​​​​
Reflecting on National Disability Employment Awareness Month 2021. According to the United States Department of Labor, individuals with disabilities comprise the largest minority in the US at nearly 50 million people. Yet, when it comes to raising awareness of the systemic issues facing people with disabilities, never mind effectively tackling them, our institutions have an extraordinary amount of work to do. A small but important step towards improving these efforts is recognizing observations like National Disability Employment Awareness Month (NDEAM). Read more
Latinx Heritage Month 2021 and Envisioning More Just Futures 2020 was a Census year and as such, population numbers are at the top of many people's minds. Oregon is no different. According to the Census Bureau, Latinx Oregonians make up the fastest growing demographic in the state, increasing from 11.7 percent in 2010 to 14 percent in 2020.... Read more
BY THE NUMBERS
1968
first national hispanic heritage month
6.3%
2019-2020 UO Latinx staff
12.6%
2019-202 UO Latinx students
IN THE SPOTLIGHT:
ANGEL ESCORCIA NUNEZ
"When I got to college is when I started seeing more about the Latinx Heritage Month. I thought, oh that's kind of cool, ya know, a month that I can celebrate my heritage. I'm looking forward to learning how to celebrate it in ways that I can and what goes around UO."
Angel Escorcia Nuñez, Journalism and Communications, 2024.