We work collaboratively to strengthen individual capacity and community bonds to advance the academic mission of the university through
Inclusion, Diversity, Evaluation, Achievement Leadership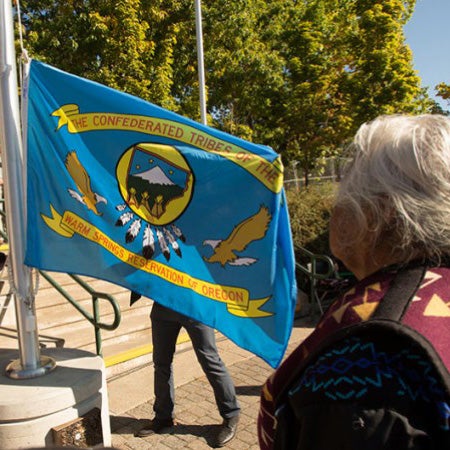 Land Acknowledgement
The University of Oregon is located on Kalapuya ilihi, the traditional indigenous homeland of the Kalapuya people. Following treaties between 1851 and 1855, Kalapuya people were dispossessed of their indigenous homeland by the United States government and forcibly removed to the Coast Reservation in Western Oregon. Today, Kalapuya descendants are primarily citizens of the Confederated Tribes of Grand Ronde and the Confederated Tribes of Siletz Indians, and they continue to make important contributions to their communities, to the UO, to Oregon, and to the world.
In following the Indigenous protocol of acknowledging the original people of the land we occupy, we also extend our respect to the nine federally recognized Indigenous nations of Oregon: the Burns Paiute Tribe, the Confederated Tribes of Coos, Lower Umpqua and Siuslaw Indians, the Confederated Tribes of Grand Ronde, the Confederated Tribes of Siletz Indians, the Confederated Tribes of the Umatilla Indian Reservation, the Confederated Tribes of Warm Springs, the Coquille Indian Tribe, the Cow Creek Band of Umpqua Tribe of Indians, and the Klamath Tribes. We express our respect to the many more tribes who have ancestral connections to this territory, as well as to all other displaced Indigenous peoples who call Oregon home.
Strategies and Working Groups are autonomous grass-roots organizations of faculty, staff, and students from Native, Black, Latino, Asian, Desi and Pacific Islander, and white communities. Volunteers donate their personal time and energy in support of making the university a more welcoming place.

​​​​​
Yvette Alex-Assensoh
Vice President for Equity and Inclusion
Native American Heritage Month 2021: Moving from Performance to Policy and Practice. The summer of 2020 brought a level of consciousness to American society that many haven't seen in decades. This included increased attention to Indigenous issues. Among other subjects that finally broke into the mainstream, we are now engaging with concepts like "land back" and Indigenous sovereignty, integrating land acknowledgements into public events, removing offensive Indian mascots and addressing other issues that have long gone ignored in the name of Indigenous erasure. Read more.
BY THE NUMBERS
9
fEDERALLY RECOGNIZED TRIBES OF OREGON 
2021
NATIVE AMERICAN AND INDIGENOUS STUDIES MAJOR OFFERED 
IN THE SPOTLIGHT:  STACIA HENRY
"At this year's IPD (Indigenous People's Day), I had the tremendous honor to sing a traditional tribal flag song in my Native language. I am grateful to be involved with the Native community and share the knowledge I have with Indigenous students. Sharing my culture while at the UO is how I continue to practice my cultural traditions."
Stacia Henry, Paiute, Major: Family and Human Services, Minor: Native American Studies, class of 2023.