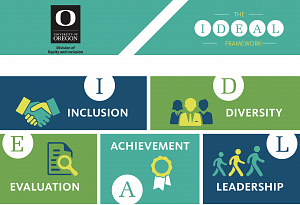 We work collaboratively to strengthen individual capacity and community bonds to advance the academic mission of the university through
Inclusion, Diversity, Evaluation, Achievement Leadership

Land Acknowledgement
The University of Oregon is located on Kalapuya ilihi, the traditional indigenous homeland of the Kalapuya people. Following treaties between 1851 and 1855, Kalapuya people were dispossessed of their indigenous homeland by the United States government and forcibly removed to the Coast Reservation in Western Oregon. Today, Kalapuya descendants are primarily citizens of the Confederated Tribes of Grand Ronde and the Confederated Tribes of Siletz Indians, and they continue to make important contributions to their communities, to the UO, to Oregon, and to the world.
In following the Indigenous protocol of acknowledging the original people of the land we occupy, we also extend our respect to the nine federally recognized Indigenous nations of Oregon: the Burns Paiute Tribe, the Confederated Tribes of Coos, Lower Umpqua and Siuslaw Indians, the Confederated Tribes of Grand Ronde, the Confederated Tribes of Siletz Indians, the Confederated Tribes of the Umatilla Indian Reservation, the Confederated Tribes of Warm Springs, the Coquille Indian Tribe, the Cow Creek Band of Umpqua Tribe of Indians, and the Klamath Tribes. We express our respect to the many more tribes who have ancestral connections to this territory, as well as to all other displaced Indigenous peoples who call Oregon home.
Strategies Groups
Strategies and Working Groups are autonomous grass-roots organizations of faculty, staff, and students from Native, Black, Latino, Asian, Desi and Pacific Islander, and white communities. Volunteers donate their personal time and energy in support of making the university a more welcoming place.
​​​​​Yvette Alex-Assensoh 
​​​​​Vice President for Equity and Inclusion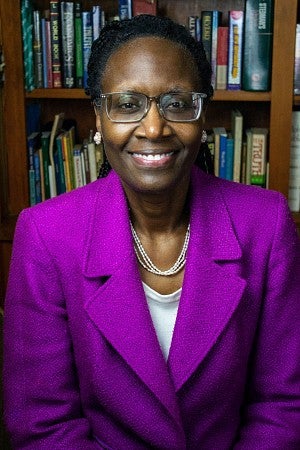 The Title IX Fight is as Relevant as Ever 50 Years Later. Title IX officially turns 50 on June 23. Congress passed the landmark piece of legislation in 1972 behind the efforts of lead author and sponsor Rep. Patsy Mink, the first Asian American woman to serve in Congress. The law prohibits sex-based discrimination in all education programs and activities that receive federal funding and mandates that they actively protect students and employees. To this day, Title IX continues to be one of the strongest deterrents of discrimination against women. Nonetheless, debates over Title IX are as active as ever...Read More
Embracing Intersectionality to Reconnect with the Foundations of Pride 2022  We cannot talk about Pride Month without talking about its foundations in the Stonewall Riots...The sustained and forceful resistance at Stonewall turned a tide to where, fast forward to 2022, it's genuinely stunning to see a corporation without rainbow themed marketing in June...Many understandably have questions about the contradictions of this moment. Beyond symbolism and statements, what is the reality for LGBTQIA+ people of color? Whose vision of Pride is really being projected? Read more
On Freedom Day, Reflecting on How the Second Amendment Became a Race War Proxy. Throughout Oregon and many parts of the country, Juneteenth celebrations are getting unprecedented visibility and recognition Juneteenth commemorates the day in 1865, two years after the Emancipation Proclamation, when enslaved people in Galveston, Texas received the news of their freedom. It's celebrated annually on June 19, but up until being recognized as a federal holiday in 2021, you would rarely see Juneteenth celebrations in Oregon outside of a few pockets of the state. It's hard not to assume that white discomfort with a holiday celebrating and encouraging deep reflection on Black freedom played a big part in that... Read more...
 Eugene Pride
August 13, 11am - 6pm
Alton Baker Park
IN THE SPOTLIGHT:
Izabella Dentler
"As a first-generation Filipino student, I was always pushed by my family to complete a degree in higher education because I had the means and opportunity. When I chose my major, advertising, it was a shock to my family because it was not in the medical field. I knew though that I needed to follow my passion for creativity and design."
Izabella Dentler, class of 2023
Major: Advertising; Minor: Art
 Read more about Izabella Dentler on the 2022 Asian, Desi, Pacific Islander Heritage Month homepage