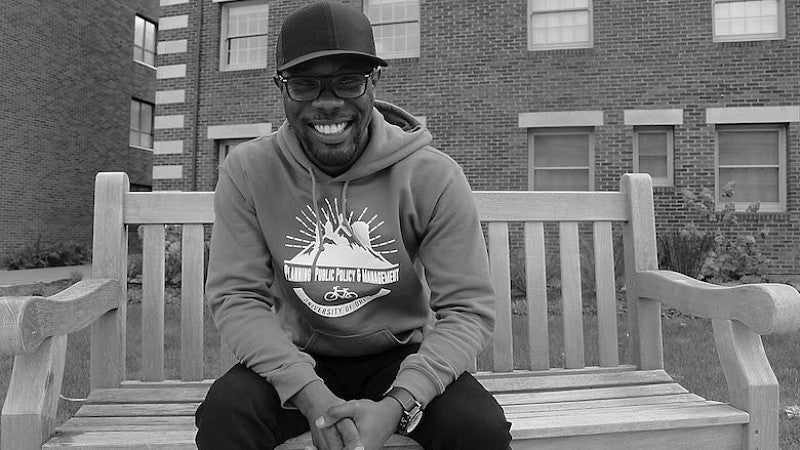 Douglas Jefumare Imaralu
Nigerian first-year graduate student at the School of Planning, Public Policy, and Management, studying for concurrent master's degrees in Nonprofit Management and Public Administration. GTF with the Department of History. Member of Rehearsals for Life (RFL), a UO Graduate School theatre troupe using different techniques to educate individuals and organizations within the university on multiculturalism and diversity.
Community
Home is where the heart is. Home is where one's dreams are valid, and your identity is acknowledged. Where one feels a sense of belonging. So, in the past three years, I've lived in New York, DC, Lagos (Nigeria), and Eugene. I guess I'm still journeying towards my home.
The soccer community and the Christian fellowships are my community here. Outside of academics and professional pursuits, soccer, life coaching, and living out the gospel of Jesus Christ are some things I'm passionate about. I've been blessed to find a semblance of community with groups that identify with those not-so-popular ideas.
Experiences
It's an exciting time to be in this community. I think Eugene is poised for something great. I'm also grateful to the School of Planning, Public Policy, and Management that gave me an opportunity to pursue my dreams. This is just another step in my journey. There are many opportunities (fellowships, seminars, workshops, access to resources, etc.), but time is a challenge. Challenges exist, but I'd rather focus on the positives. I'm here for a reason -  that reason's bigger than any challenge. However, playing soccer, fellowshipping with other Christians, attending seminars/talks that interest me, learning from colleagues, and helping students become their best help me deflect during challenging periods.