This page contains a snapshot of current and historical data related to student, faculty, staff and administration diversity. All info is current as of April 2016. The Office of Institutional Research website has the most up-to-date numbers and dives deeper into the demographics and data points. 
Learn more about President Schill's and Vice President Alex-Assensoh's new initiatives to enhance diversity.
Students of Color in Total UO Enrollment
The University of Oregon total enrollment in fall 2015 was 24,100 students, with 23.8 percent students of color. The 10-year trend, from fall 2005-2015 saw an increase of undergraduate students of color from 14 percent to 25.2 percent, and from 12 percent to 15.7 percent for graduate students. First-time freshmen in fall 2015 included 1,138 students of color, 2,512 white students, 361 international students and 49 of unknown race and ethnicity. The graphs show undergraduate (UG in blue) and graduate (GR in orange) trends from fall 2005 to fall 2015.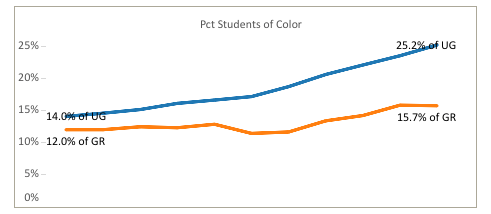 Source: Office of Institutional Research student website. Data can be filtered by school or college. 
Looking closer at students of color in fall 2015, total enrollment included 2,270 Hispanic or Latino students, 1,334 Asian students, 472 black or African American students, 146 American Indian or Alaskan Native students, and 106 Native Hawaiian or other Pacific Islander students. In addition, 3,274 international students and 1,402 students of two or more races were enrolled in that fall.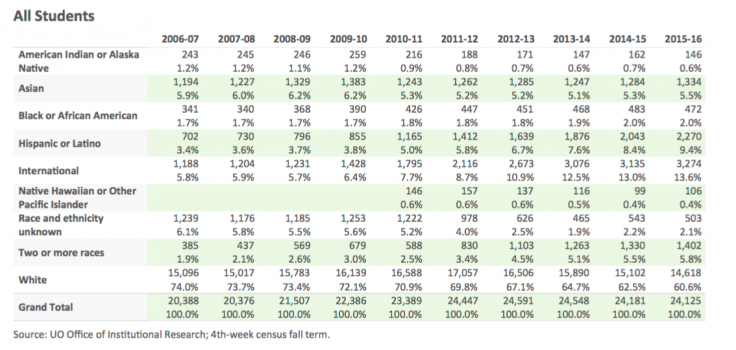 Total enrollment in fall 2015 was made up of 52.5 percent females and 47.5 percent males. The gender breakdown of undergraduate and graduate students closely mirrored total enrollment and the 10-year trend remained steady. 


Source: Student Demographics from 2006-07 to 2015-16
Of the first-time student of color freshman who started in fall 2013, 85 percent returned for their second year. Of the students of color who started their freshman year in 2008, 34.8 percent graduated within four years, 61.3 percent graduated in five years, and 64.9 percent graduated within six years.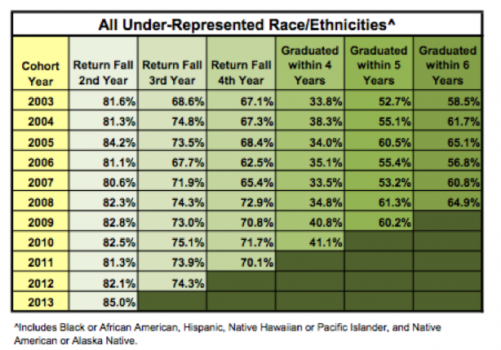 Source: 2-, 3-, and 4-Year Retention and 4-, 5-, and 6-Year Graduation Rates for Students of Color by Race/Ethnicity
---
The UO employed 7,056 in fall 2015, with 13.6 employees of color. Female employees represented 53.3 percent of the workforce and males represented 46.7 percent.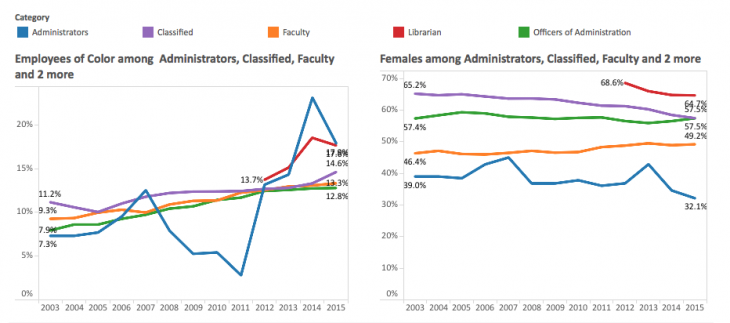 Source: Office of Institutional Research 
For a breakdown of diversity within each school and college, visit the Office of Institutional Research personnel website. Select the "Faculty by School/College" or "Staff by School/College" tab along the top to look at employee of color or gender data for the selected school or college. 
---
Cleary Act Reporting