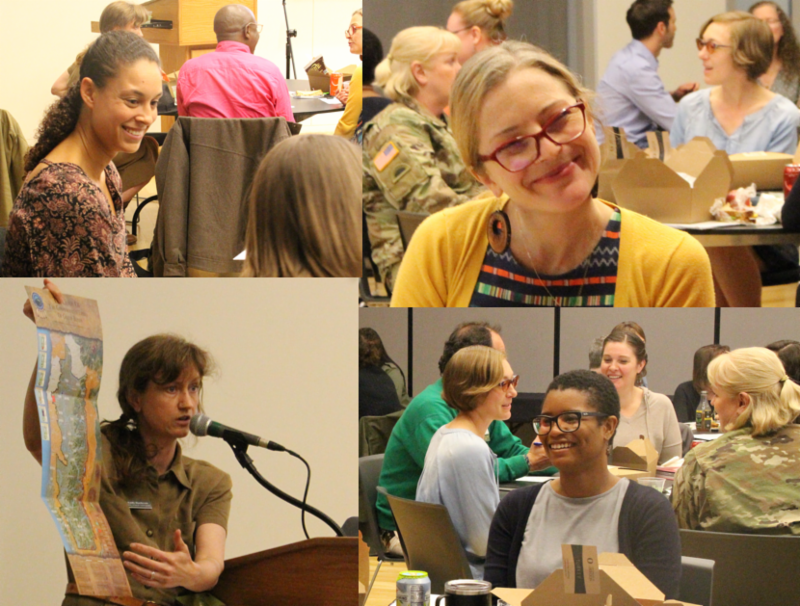 #DAPTalks are lunch sessions designed to energize and connect campus communities working on DAP activities and foster sharing, learning, and collaboration. During these working lunches, we will have opportunities to share ideas, successes, and challenges across university-wide Diversity Action Plans.
---
#DAPTalks V Lunch Session
Campus Climate Survey: Present and Future Status
May 15, 2019 | 11:45 am – 1 pm | Gerlinger Lounge
#DAPTalks V was facilitated by Vickie DeRose, Director, Center on Diversity and Community (CoDaC) with presentations by Tori Byington, Assistant Dean of the Graduate School and Kaia Rogers, Senior Director, HR Programs, Services and Strategic Initiatives; and an interactive session with members of the UO climate survey working group, including VP of Equity and Inclusion Yvette Alex-Assensoh and Kaia Rogers,Tracy Bars, and Melanie Muenzer,
Speakers addressed the timeline, status, and plans for a new, comprehensive survey to measure climate and inclusiveness on campus. Members of the UO climate survey working group took questions from the audience. The proposed survey is focused on staff, faculty, and OA's.
---
#DapTalks IV
Talking Terminology: An interactive session to build capacity in inclusive dialogue
April 17, 2019 | 11:45 a.m. | Crater Lake (EMU)
Supporting an inclusive environment means being able to approach topics of race, gender, ethnicity, and other aspects of a diverse community. A common challenge is the fear of saying something ignorant or offensive, silencing dialogue that could otherwise promote progress. Contributing to this challenge is an ever-changing landscape of terminology. 
Presentation by Emily Hartlerode, Associate Director, Oregon Folklife Network
---
#DAPTalks III Recap
The third in a series of Diversity Action Plan (DAP) Lunch Sessions (#DAPTalks) for AY 2018-19 was held on March 7, 2018, and attended by a mixture of UO faculty, staff, OA's and students.     
Titled "Tools for Inclusive Communication," #DAPTalks III was facilitated by Vickie DeRose, Director, Center on Diversity and Community (CoDaC),  and Abigail Leeder, Director, Experiential Education & Prevention Initiative, Office of the Dean of Students. Speakers included:
Chris Esparza, Director of Diversity, Inclusion, and Leadership Development at the UO School of Law, shared tangible considerations for inclusive conversations and tips on how to shape those conversations. To access working material click here.
Rehearsals for Life (RfL), a graduate student theater troupe which uses personal experiences to discuss issues of power and privilege. They shared some personal stories and showed a scene that helps to practice interventions encouraging mutual respect and ensure inclusive communication in real life. To contact RFL, email: kaisa@uoregon.edu
---
#DAPTalks II Recap
February 8, 2019
"Tools for Building an Inclusive Environment"
Featured Speakers:
Damien Pitts shared some ideas on helping students achieve positive success without losing their identity and preparing them for the world outside campus.
Brice Kuhl, Ph.D.provided insights on the Department's climate survey, results gathered, and other strategies adopted by the CIC.
Taylor Fowler, and Maja Wright-Phillips,alked about results of a speaker series implemented in their unit and the successes recorded with an internal newsletter.
The speakers also shared some challenges faced with implementing programs while attendees probed with questions and suggestions on how to move forward. 
---
 #DAPTalk I Recap
November 14, 2018
 "How to Support an Inclusive Community in your Unit." 
The panel featured:
Kassy Fisher, Associate VP for Campus Services and Chief of Staff VPFA
Dyana Mason, Assistant Professor, Director, Graduate Certificate in Nonprofit Management, Co-Convener PPPM Equity Initiative
Jaclyn Kellonon, Chemistry Department, Innovation Fellow, CMiS and Creating Connections Founder