Then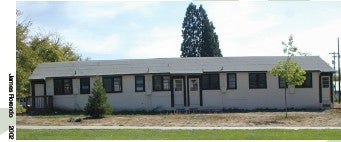 In the late 1960s and early 1970s, Native American students approached the University of Oregon administration to develop a place where Native American students could help each other successfully survive the university experience. They envisioned a place that would allow them to practice their cultures, traditions, and values.
At this time, the students officially formed the Native American Student Union (NASU) under the ASUO. The University of Oregon administration gifted a retired World War II army barracks to NASU to serve as the first University of Oregon Longhouse.
On January 24, 2002, NASU and the Longhouse Users Committee wrote and approved the originals rules and protocols of the Longhouse. These rules and protocols include the Longhouse User Agreement and the memorandum of Understanding.
During the spring of 2002, the barracks were decommissioned and torn down in order to make way for the new Longhouse.
Now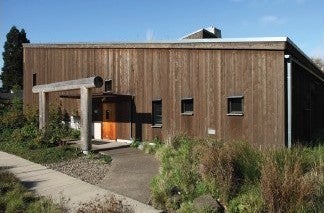 On January 7, 2005, the University of Oregon Many Nations Longhouse Grand Opening was held to celebrate the completion of its construction. Elders from the Confederated Tribes of the Warm Springs, the Confederated Tribes of the Umatilla, and the Burns Paiute Tribe blessed the structure. Members of the Klamath Tribes also participated in the event. The Longhouse was blessed as sacred place built on sacred ground.
NASU, the Native American Law Student Association (NALSA), Native American faculty and staff, and the local Native American community (including members of the nine federal recognized tribes of Oregon: the Coos, Coquille, Grand Ronde, Klamath, Siletz, Siuslaw, Umatilla, Umpqua and Warm Springs) continue to participate in events that are held at the Longhouse on a year-round basis.
---
Contact:
Gordon Bettles, Many Nations Longhouse Steward
541-346-6262
gbettles@uoregon.edu
Physical Address:
1630 Columbia St.
Eugene, OR 97403
Mailing Address:
5296 University of Oregon
Eugene, OR 97403